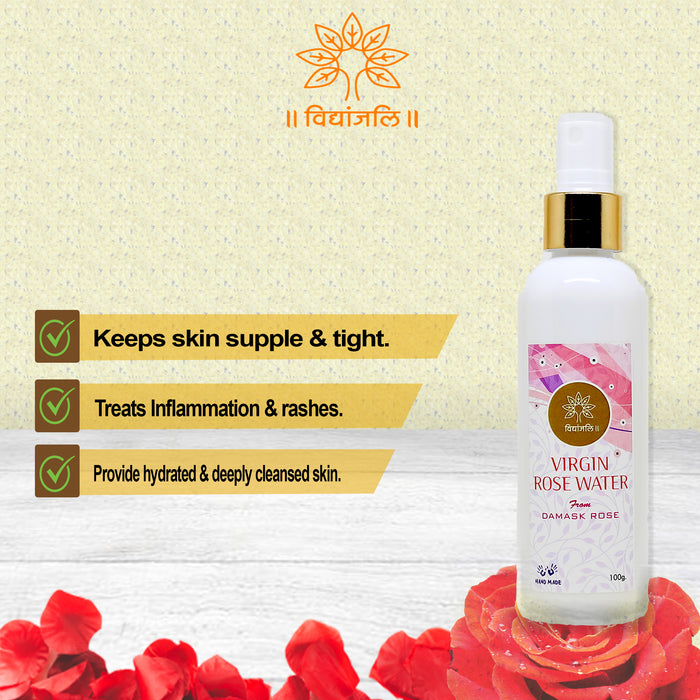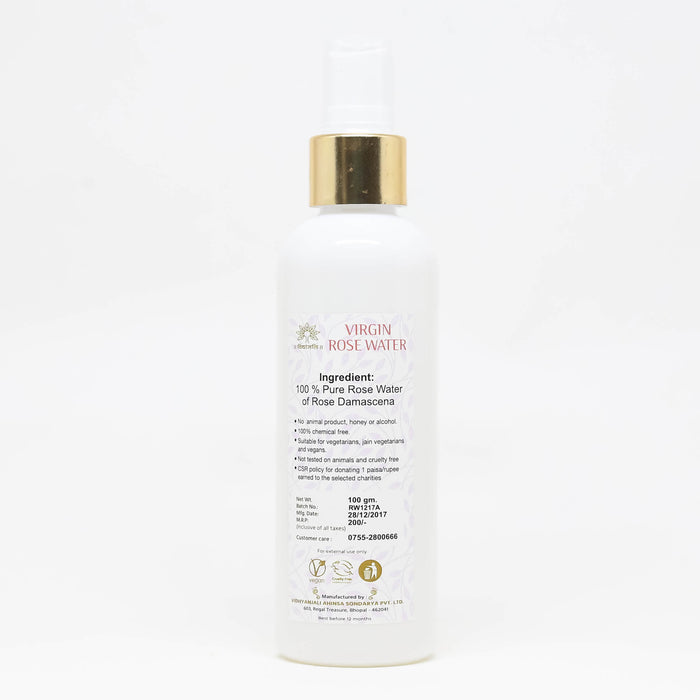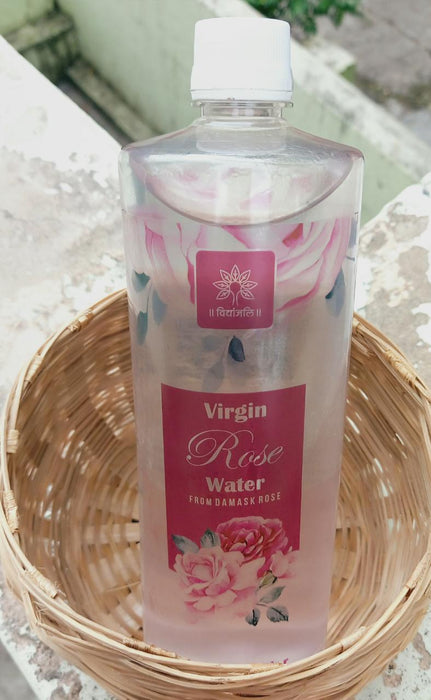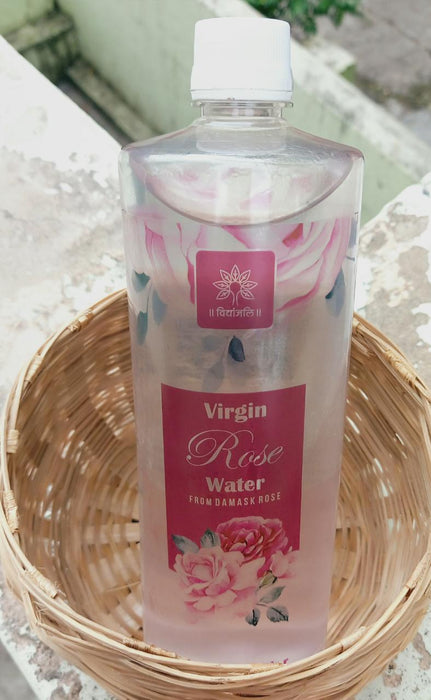 Virgin Rose Water - 100 ML / 1000 ML
Description
---
Product Weight:
100 ml / 1000 ml
Rose water or 'Gulab Jal' is the most common beauty and health product used in almost every household.It is popular because of its cosmetic, therapeutic qualities and charismatic aroma. Regular use of Rose water enhances beauty by making the skin as soft and fresh as a rose flower. Rose water is also known as 'Natural Toner'. Nothing better than applying rose water daily to remove wrinkles and tighten up the skin. Also, Rose water has a profound effect in treating acne problem. It prevents the proliferation of bacteria by maintaining optimal PH levels of skin. Apart from its effects on skin, Rose water is a natural tonic for eyes. Its antibacterial properties protects our eyes from dust, pollution, burning, redness and harmful effects of chemical filled marketed cosmetic products. Rose water also has therapeutic effects on our body such as it relaxes the mind, cures sleeplessness, and maintains youth and vigor.
Key Ingredients
---
100% rose water from Damask Rose
Ingredient's Source
---
100% rose water from Damask Rose
From Damask Rose grown in Kanpur, Aligarh and Kannauj, UP, India
Best For
---
Normal skin
Oily skin
Combination skin
Sensitive skin
Dry skin
Prakriti
---
This works for all :Vata, Pitta and Kapha Doshas by deeply cleansing the skin.
Chakra
---
It works on the Heart Chakra. The heart chakra is the center of love both for yourself and others. When it is in balance we give and receive love appropriately. And when out of balance we either are unable to love or we are too dependent on others to justify our love.

The Sacral Chakra is the water element in the body. Creativity, sexuality, and inner joy are housed in the sacral chakra. When it is in balance we pursue creative projects, flow with the waves of life, and have a normal sexual relationship with ourselves and others.
Zodiac
---
Pisces:
Pisces are some of the most caring individuals out of all of the astrological signs. These individuals are selfless and emotional.

Pisces individuals are known to be lovers by nature. They love being in love, the thought of love, and of course, the individuals they love. Their personalities are often linked to delicate, romantic scents.
Cancer:
Cancers are individuals with good imaginations and a creative side. Aside from being creative individuals, they're some of the most optimistic people.

Cancers are known for being kind, loving, and empathetic toward others. They care about the people they're close with, and they have a softer side that they're willing to show to those who love and care about them. Because they're empathetic beings with good hearts, Cancers are linked to sweet yet softer scents.
Colour Therapy
---
Red colour of it works great for rheumatic joints/pains. Thus, people with joint pain in shoulder, knees or ankles, it is very helpful.
Seasonal Concerns
---
Virgin Rose water works wonders on emotional changes due to weather like anxiety, negative emotions and inflammation due to dry climate. It also deeply cleanse the skin and hydrate it keeping it fresh for long. This also keeps skin supple ,tightens and lightens skin, prevents skin rashes and inflammation/acne.
How To Use
---
STEP 1
Spray it directly on your face and then wipe off with a cotton swab.
STEP 2
Use it as a toner for dry skin.
STEP 3
One can also use it as a deodorant.
STEP 4
For best results, use it daily before going to bed to clean your face.
Description
---
Product Weight:
100 ml / 1000 ml
Rose water or 'Gulab Jal' is the most common beauty and health product...
You recently viewed
Clear recently viewed