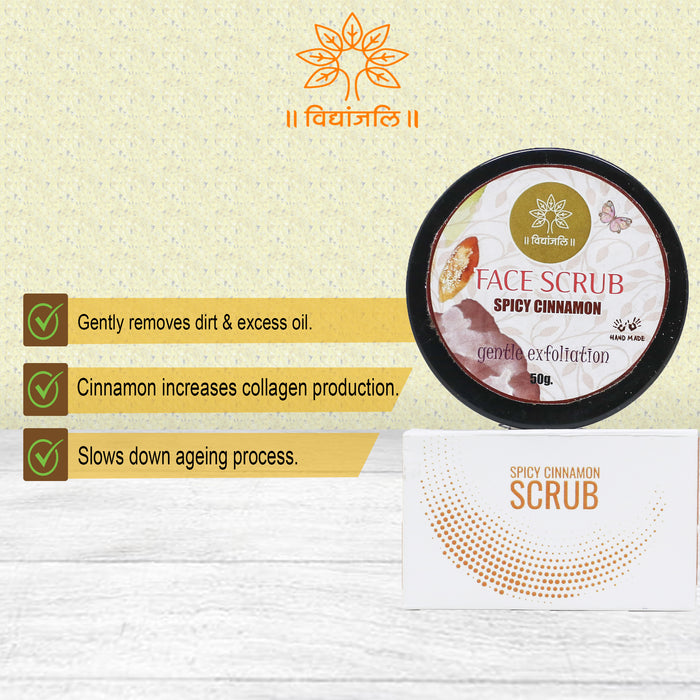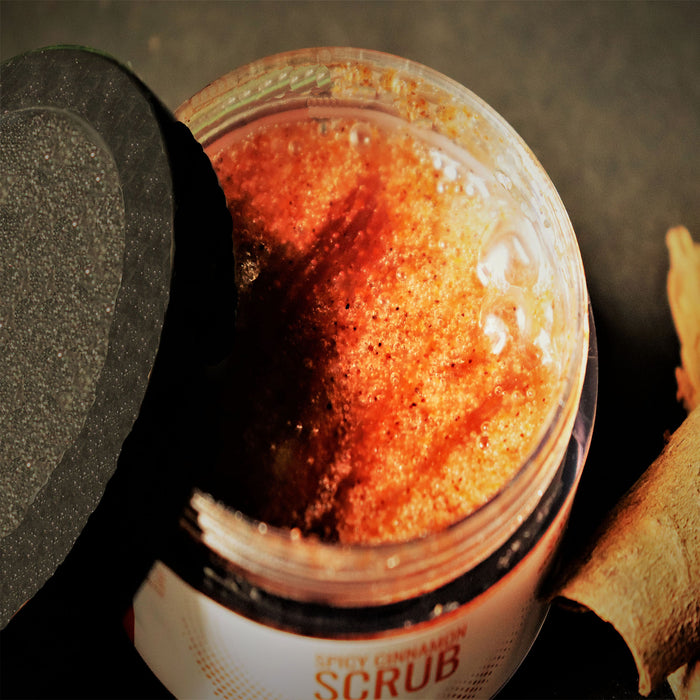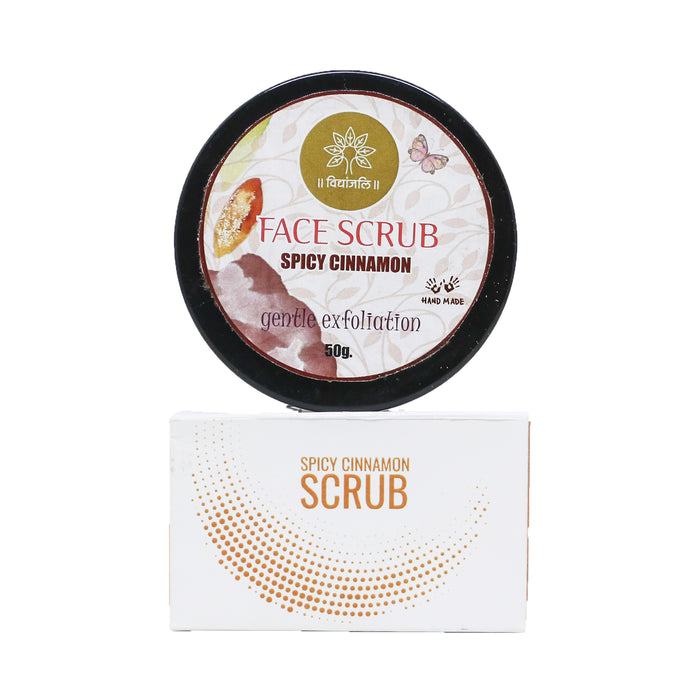 Description
---
Product Weight:
50 g
Spicy cinnamon scrub is a mild exfoliating face scrub that gently removes the dirt and excess oil from the skin. Cinnamon is a natural treatment for acne; it cleanses pores, and stimulates blood vessels on surface of the skin.

Cinnamon increases the collagen production, and thus slows down the appearance of fine lines and wrinkles.
Key Ingredients
---
Aqua
Walnut Shell
Coconut Oil
Sunflower Oil
Palm Oil
Castor Oil
Cinnamon Essential Oil
Color (FDA Approved, Color Code CI61565, EWG - Safe)
Ingredient's Source
---
Walnut Shell
Kashmir Walnut Shell
Coconut Oil
Organic, Cold Rotary Pressed from Kangayam, Tamilnadu
Sunflower Oil
Seeds of Sunflower organically grown in Hoshangabad region, MP, India
Castor Oil
Cold pressed from the seeds of organic plants grown in Kangayam, Tamilnadu
Cinnamon Essential Oil
Wild Crafted from the bark of cinnamon tree grows near Colombo, Srilanka
Best For
---
Normal skin
Oily skin
Combination skin
Sensitive skin
Dry skin
Prakriti
---
Cinnamon (twak) essential oil works best for Kapha Dosha making the skin, smooth and soft and removes congestion from organs and tissues including mind.
Chakra
---
Cinnamon essential oil helps in balancing the Sacral, the Basic and the Heart Chakras.

The sacral chakra is the water element in the body. Creativity, sexuality, and inner joy are housed in the sacral chakra. When it is in balance, one pursues creative projects, flows with the waves of life, and have a normal sexual relationship with oneself and others.

The basic chakra, located at the base of the spine, is the foundation of one's security. When this chakra is in balance, one feels grounded, secure, and has a confident relationship with money. In excess of this chakra, one can become lazy, overweight, and hoard objects. Conversely, when one has too little, they are flighty, distracted, underweight, and lose objects frequently.

The heart chakra is the center of love both for yourself and others. When it is in balance one gives and receives love appropriately. And when out of balance one either is unable to love or is too dependent on others to justify their love. Some people become extremely co-dependent.
Zodiac
---
Aries:
They are the life of any party or gathering but entertaining others drains them of their energy. So they get prone to stress, cramped muscles and digestive issues which can be treated by using cinnamon oil.
Colour Therapy
---
Orange and Yellow colour of walnut shell and cinnamon oil helps in treating neurological problems like mental tiredness or stress and improves blood circulation in the body.
Seasonal Concerns
---
Spicy Cinnamon Scrub helps in removing sun-tan, dead skin, blemishes and gives even skin tone on regular use. It also helps in taking care of
cold and cough, sneezing
.
Heart patients
can be benefited by just smelling the fragrance.
How To Use
---
STEP 1
Wash your face with normal water.
STEP 2
Take a dab of scrub on your palm. Rub between palms to get a smooth texture and then massage this on your face for 5 minutes.
STEP 3
Rinse off your face and pat dry.
Description
---
Product Weight:
50 g
Spicy cinnamon scrub is a mild exfoliating face scrub that gently removes the dirt and excess...
You recently viewed
Clear recently viewed