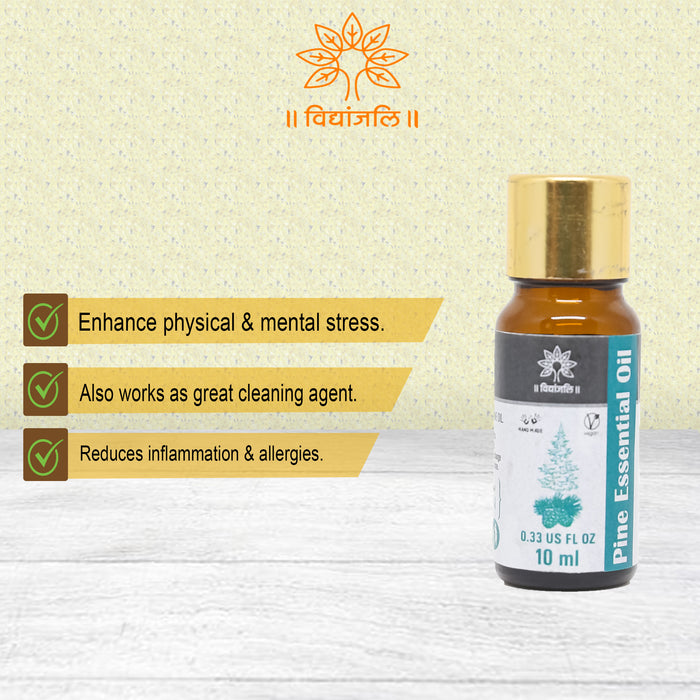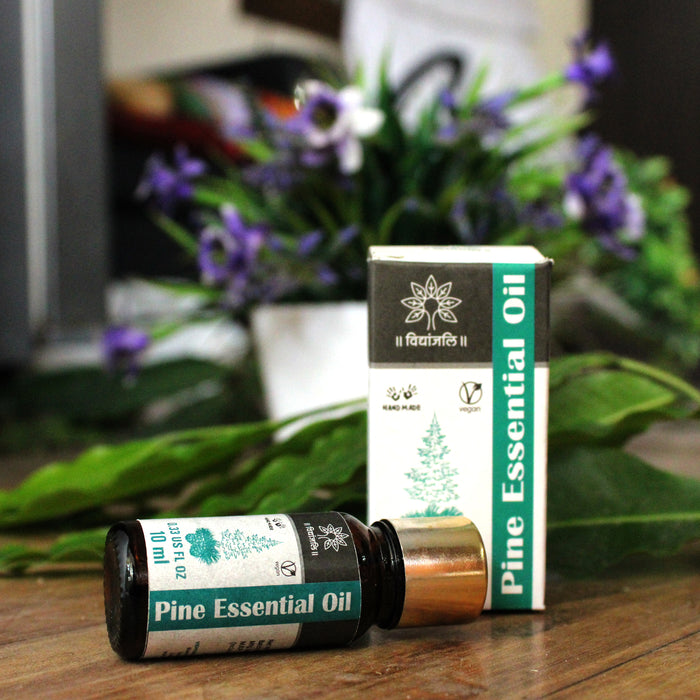 Description
---
Product Weight:
10 ml
Pine essential oil possesses a fabulous richness that is unique among conifer oils. Distilled from pine needles wild-harvested. The cooler distillation temperatures in turn endow this fresh, sumptuous pine elixir with exceptional aromatic and aroma-therapeutic qualities. Pine oil has great therapeutic properties which helps in enhancing mental and physical health. It helps in relieve congestion and aid in protecting against cold. Regular use of oil may protect from different types of harmful organisms. The oil also stimulates mind and body and has an energizing effect. It works as a great cleaning agent too. The other benefit includes decreasing inflammation, decreasing allergies, fighting free radicals through the presence of antioxidants, including polyphenols, treating muscle aches and pain, energizing and lifting mood and increase focus.
Key Ingredients
---
100% Pure Pine Oil
Ingredient's Source
---
100% Pure Pine Oil
Wild crafted from the Himalaya Mountain India
Best For
---
Normal skin
Oily skin
Combination skin
Sensitive skin
Dry skin
Prakriti
---
Pine Oil works best on the Vata Dosha. It helps in keeping skin calm and hydrated all day long.
Chakra
---
Pine essential oil helps balance the heart and the Solar Plexus Chakra.

The solar plexus chakra represents willpower, motivation and vitality. It is often associated with the pancreas, liver, spleen, stomach, lower back muscles, the metabolism and digestion.

A balanced solar plexus chakra should show the following characteristics: confidence, warmth, self-discipline, reliability, and a positive sense of self.

Pine essential oil is helps in the restoration of the heart when one's emotions become hard or jaded. This oil releases one from old wounds, letting one move forward without the baggage of the past, bringing the ability to experience the emotions in real-time versus playing out echoes from the past. One feels replenished and new, which allows to bring growth and inner peace to the future relationships.
Zodiac
---
Sagittarius:
The Sagittarius is an adventurous individual who loves exploring. They're enthusiastic people who like to take the lead and are up for dealing with challenges that get in their way.

Sagittarius individuals like their freedom. They're bold, unafraid, and willing to take some major risks to have a good time. Because they're free spirits, they're often attracted to the types of scents that remind them of the outdoors, like that of pine essential oils. This oil gives a boost to their free-spirited mind.
Colour Therapy
---
Pine essential oil is associated with the Green colour. The green prana helps the individual relax and calm their heart and mind.
Benefits
---
Air purifier by cleansing the home of bacteria, fungi, pathogens, and yeast, killing odors and purifying the air
Decreasing inflammation and allergies like common cough and cold/congestion
Fighting free radicals through the presence of antioxidants, including polyphenols
Treating muscle aches and pain
Energizing and lifting your mood and focus
How To Use
---
STEP 1
For muscle pain- It is strongly recommended to dilute it with a carrier oil (any other massage oil) before applying on to the skin.
STEP 2
For Inhalation/addressing allergies- Dilute pine oil in water and use this in a steamer to get relief from cold and flu.
STEP 3
For Diffuser/Air purifier/Antibacterial/home cleansing/lift up the mood- TAdd a few drops to water in a diffuser to deodorize rooms for fresh air quality.
STEP 4
For Anti-inflammatory/detoxifier- To take pine oil as a supplement, you can add one to two drops to tea or hot water with lemon.
Caution
---
Caution 1
Do not apply directly on the skin.
Caution 2
For external use only. Keep away from eyes.
Description
---
Product Weight:
10 ml
Pine essential oil possesses a fabulous richness that is unique...
You recently viewed
Clear recently viewed