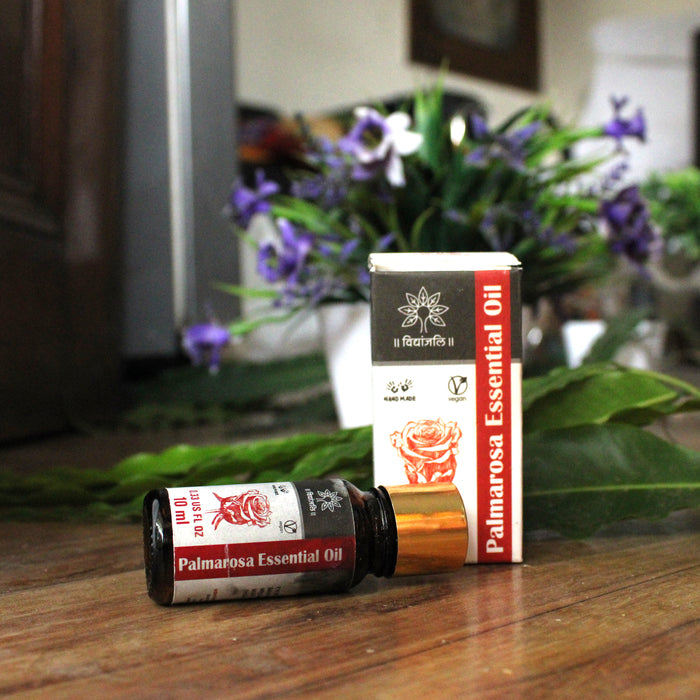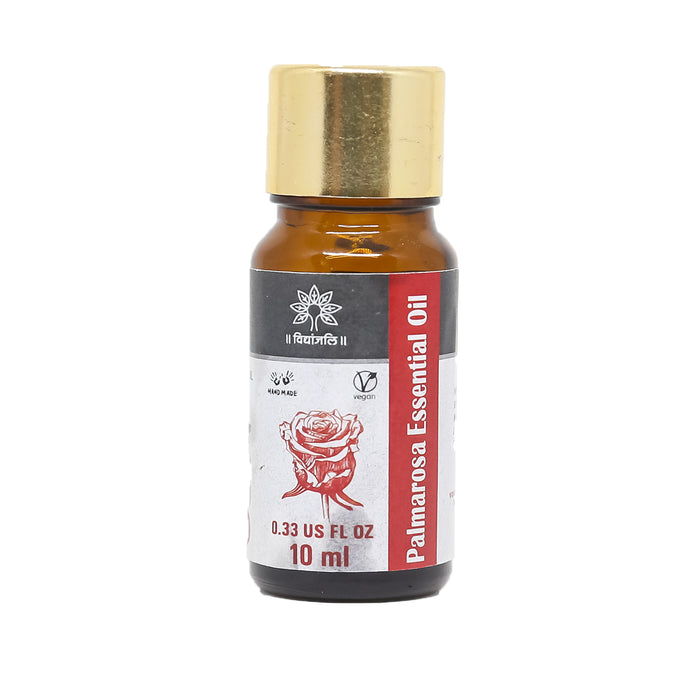 Description
---
Product Weight:
10 ml
Palmarosa Oil is well known for its hydrating properties. It prevents inflammation and quells dehydration. Its health benefits are often attributed to its antiseptic and antimicrobial properties. It nourishes skin health. It is used to treat skin problems like eczema and psoriasis. Palmarosa oil has a unique rose-like scent that enhances the fragrance when used in any product.
Key Ingredients
---
100% natural Palmarosa Oil
Ingredient's Source
---
Palmarosa Essential Oil
Palmarosa Essential Oil comes from the Surat region of Gujrat that is grown organically by the farmers and is extracted through steam distillation units stalled in their farms
Best For
---
Prakriti
---
A mix of various oils works best for treating Vata Dosha. Palmarosa oil helps in deep moisturizing, keeping the skin hydrated throughout the day and works great for Pitta Dosha.
Chakra
---
Palmarosa essential oil works on the Heart Chakra. The heart chakra is the center of love both for yourself and others. When it is in balance we give and receive love appropriately. And when out of balance we either are unable to love or we are too dependent on others to justify our love.

The Sacral Chakra is the water element in the body. Creativity, sexuality, and inner joy are housed in the sacral chakra. When it is in balance we pursue creative projects, flow with the waves of life, and have a normal sexual relationship with ourselves and others.
Zodiac
---
Pisces:
Pisces are some of the most caring individuals out of all of the astrological signs. These individuals are selfless and emotional.

Pisces individuals are known to be lovers by nature. They love being in love, the thought of love, and of course, the individuals they love. Their personalities are often linked to delicate, romantic scents.
Cancer:
Cancers are individuals with good imaginations and a creative side. Aside from being creative individuals, they're some of the most optimistic people.

Cancers are known for being kind, loving, and empathetic toward others. They care about the people they're close with, and they have a softer side that they're willing to show to those who love and care about them. Because they're empathetic beings with good hearts, Cancers are linked to sweet yet softer scents.
Colour Therapy
---
Red colour of Palmarosa Essential Oil works great for rheumatic joints/pains. Thus, people with joint pain in shoulder, knees or ankles, it is very helpful.
Benefits
---
Pure rose bar works wonders on:
- Emotional changes due to weather like anxiety, negative emotions and stress
- Inflammation due to a dry climate
- Helps balance moisture content in skin
- Promotes even tone & healthy complexion
- Cure acne, scars, blemishes, ageing, wrinkled, dry and cracked skin
How To Use
---
STEP 1
It is strongly recommended to dilute it with carrier oil (any massage oil) before applying on the skin.
STEP 2
For body pain: Add 2-3 drops of oil to bathing water or massage with a diluted oil to prevent pain, and skin problems.
STEP 3
In a diffuser: Add few drops of pure Palmarosa oil to water.
STEP 4
For menstrual cramps- start massaging on abdomen a week before the expected date.
STEP 5
For Depression/Anxiety/Stress- Combine Rose oil with lavender oil and diffuse it, or apply 1 to 2 drops topically to your wrists and the back of your neck.
STEP 6
For Acne/Blemishes/Scars- dab one drop of pure rose essential oil on blemishes three times a day. Make sure you use a sterile cotton swab; if the antimicrobial power is too much for you, dilute it slightly with some Coconut Oil.
STEP 7
Fragrant natural perfume: Simply dab 1 to 2 drops behind your ears or on your wrists.
Caution
---
Caution 1
Do not apply directly on the skin.
Caution 2
For external use only. Keep away from eyes.
Description
---
Product Weight:
10 ml
Palmarosa Oil is well known for its hydrating properties. It...
You recently viewed
Clear recently viewed