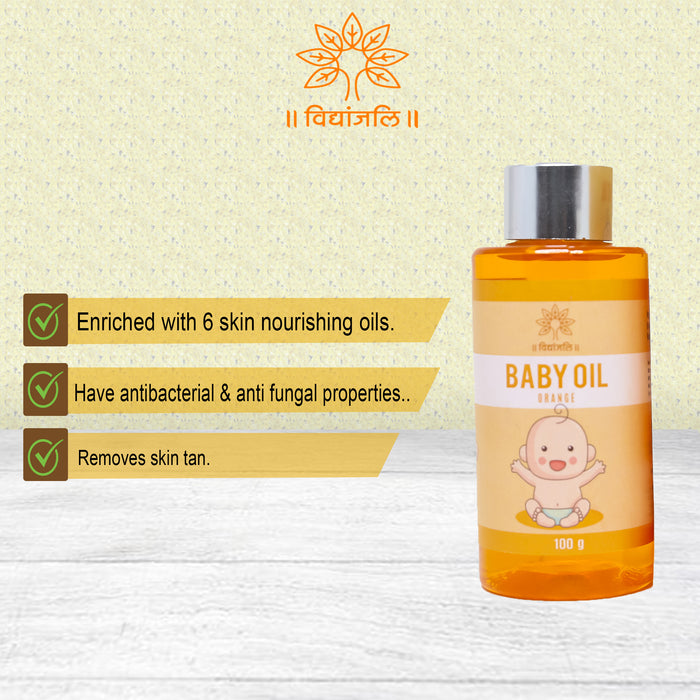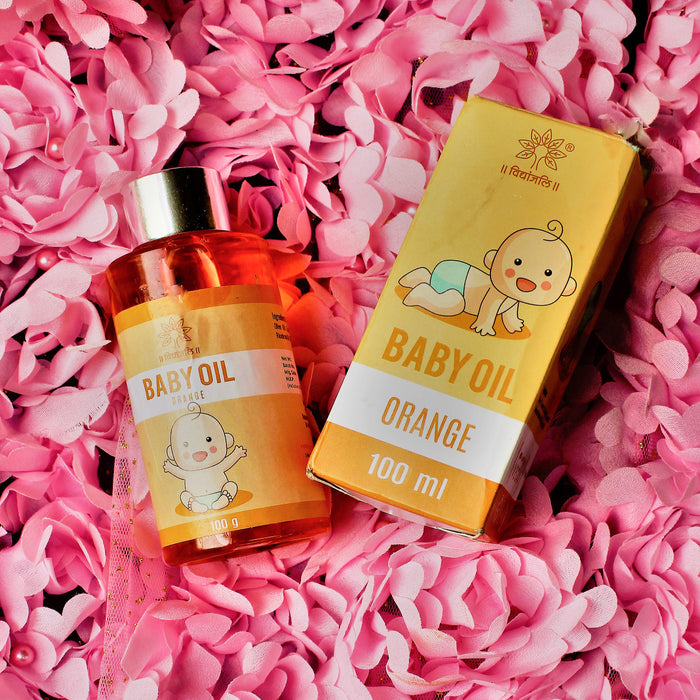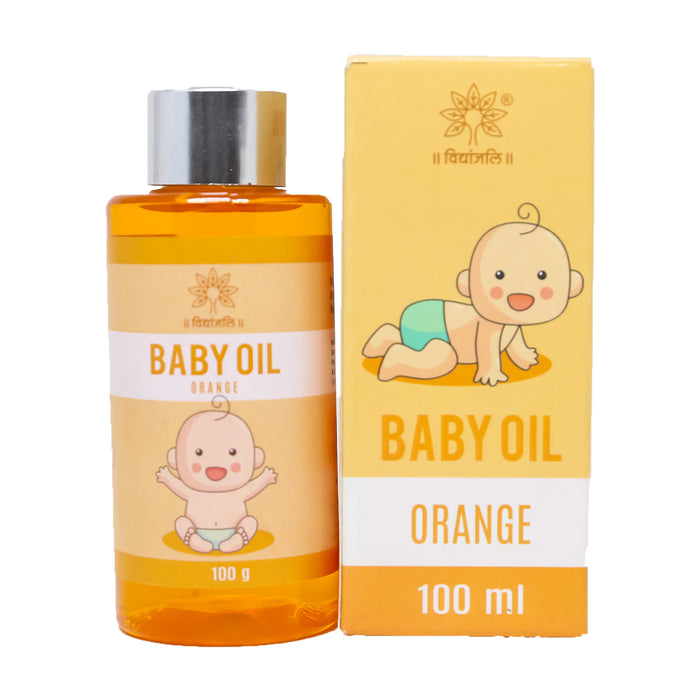 Description
---
Product Weight:
100 ml
Orange baby oil enriched with six skin-nourishing oil. Olive oil is a perfect moisturizer for skin, it makes skin smooth, shiny and healthy. Sesame and coconut oil have antibacterial, anti-fungal properties and is useful for skin irritation and rashes. The sweet scent of orange essential oil makes it perfect for children.
Key Ingredients
---
Olive oil
coconut oil
sunflower oil
sesame oil
Rice bran oil
Wheat Germ Oil
Color (FDA Approved, Color Code CI61565, EWG - Safe)
Ingredient's Source
---
Olive oil
California, USA
coconut oil
Organic, Cold Rotary Pressed from Kangayam, Tamilnadu
Wheat Germ oil
Wheat Germ oil comes from the germ plasm of the wheat that is grown in India which is a rich source of Vitamin E
sunflower oil
Seeds of Sunflower organically grown in Hoshangabad region, MP, India
sesame oil
Organic, Cold Rotary Pressed from Kangayam, Tamilnadu
Rice bran oil
Sourced from the Adani Wilmar
Wheat Germ Oil
Cold pressed organically grown wheat kernel embryo
Best For
---
Normal skin
Oily skin
Combination skin
Sensitive skin
Dry skin
Prakriti
---
It works on Kapha and Pitta Doshas keeping the skin hydrated and supple.
Chakra
---
It helps in balancing the Root Chakra which is located at the base of the spine. When this chakra is in balance, we feel grounded, secure, and have a confident relationship with money. In excess of the root chakra, we can become lazy, overweight, and hoard objects. Conversely, when we have too little, we are flighty, distracted, underweight, and lose objects frequently.
It also works on the Ajna Chakra. It has deep cleansing properties hence it works as a purifier for energy channels.
Zodiac
---
Aries:
Aries demonstrate a courageous and industrious nature. However, their determination and pioneering spirit can sometimes cause them to seem impatient and overly assertive. The best essential oil to balance their enthusiasm is the calming and cooling Orange (Citrus sinensis). Orange's harmonizing, uplifting energy can help relieve stresses of any kind and ease the excesses of ego-driven frustrations.
Gemini:
The average Gemini is a persuasive individual who likes to have things his or her way. Many people are attracted to this sign simply because Geminis are ambitious and often take on leadership roles. Although they're charming and ambitious, they are also known to be stubborn.
Based on their personalities, Geminis are linked to floral, fruity scents, including jasmine, lemon, sweet orange, and neroli essential oils.
Cancer:
Cancers are individuals with good imaginations and a creative side. Aside from being creative individuals, they're some of the most optimistic people.
Cancers are known for being kind, loving, and empathetic toward others. They care about the people they're close with, and they have a softer side that they're willing to show to those who love and care about them. Because they're empathetic beings with good hearts, Cancers are linked to sweet yet softer scents, including grapefruit, sweet almond, sweet orange, and rose essential oils.
Leo:
The average Leo is a strong-willed, opinionated individual. They'd much rather move to the beat of their very own drum than do what someone else wants them to do.
Leo is ambitious and dedicated to his or her work. Once Leo gets started on something, he or she doesn't stop until it's finished. Aside from being dedicated, they're often more confident than many of the other astrological signs. Both women and men with this astrological sign are bold and enjoy the attention, which is why they're often associated with strong, fruity scents, including lemon, lime, and orange essential oils.
Aquarius:
Aquarius individual is rather smart and creative. They know what they want and are willing to work hard to get it, even if it takes a lot of patience and persistence. They're known for being deep thinkers who aren't always the best at expressing themselves through communication. They don't follow trends and simply go for what they like rather than choosing something because it's popular or because it's something that other people like.
Because they don't always go with the flow, the Aquarius personality is associated with scents that are bold and fruity.
Colour Therapy
---
Orange and Yellow color of Orange essential oil helps in treating Neurological problems like mental tiredness or stress and improves blood circulation in the body. It also keeps one grounded and control anxiety. It also has Green prana which helps in overall cleansing.
Benefits
---
Nausea, anxiety and tiredness and skin tan all related to changing seasons, Orange essential oil in this helps the most.
How To Use
---
STEP 1
Gently massage with slightly warm oil all over the body including face and hair.
STEP 2
Leave it for half an hour and then give a bath to the baby.
STEP 3
Use it again post bath instead of a baby lotion to retain moisture.
Description
---
Product Weight:
100 ml
Orange baby oil enriched with six skin-nourishing oil. Olive oil is a perfect moisturizer for skin,...
You recently viewed
Clear recently viewed