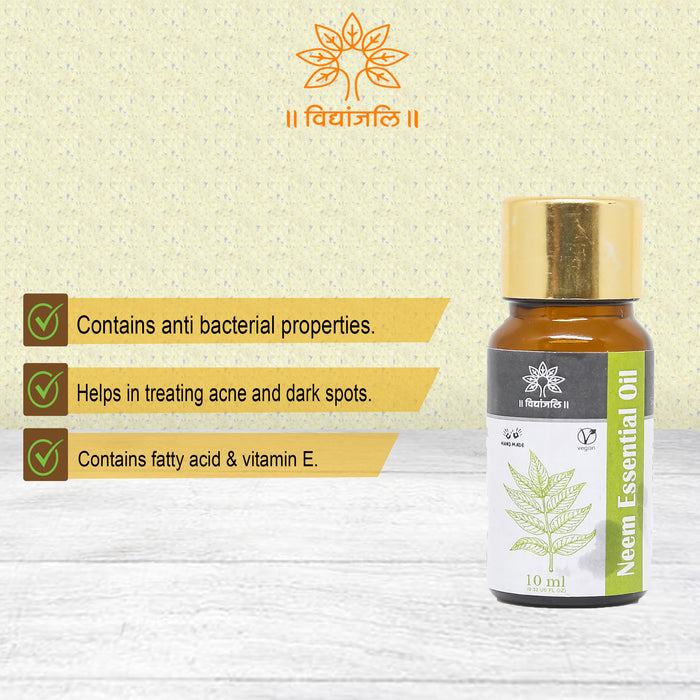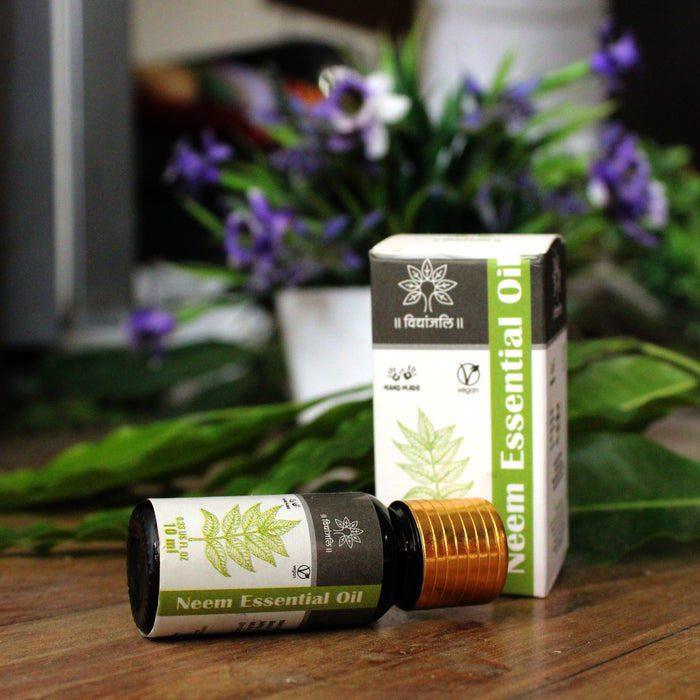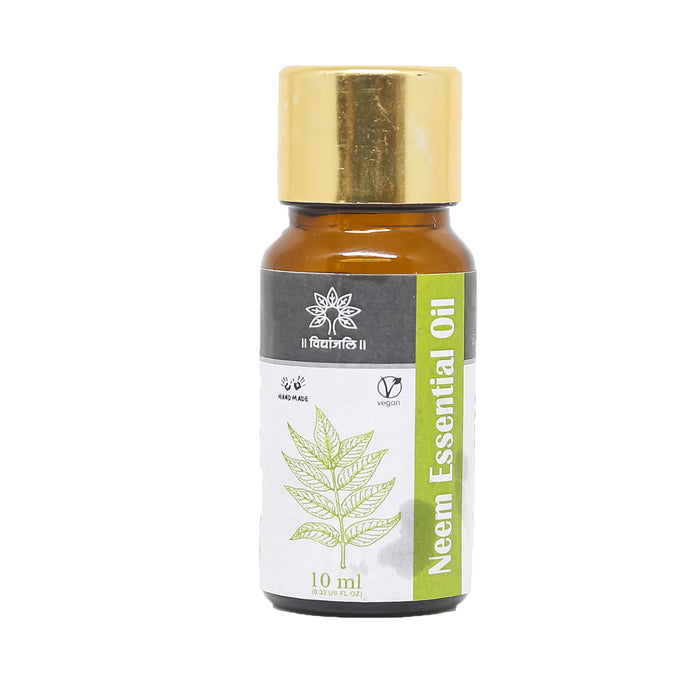 Description
---
Product Weight:
10 ml
Neem oil contains high level of antioxidants that protect the skin from environmental damage. Neem also helps fight free radical damage in the skin because it contains carotenoids, which provide high antioxidant compounds. Neem oil is rich in essential fatty acids (EFAs), triglycerides, vitamin E and calcium that penetrates deep within the skin to heal the miniscule cracks brought on by severe dryness. The fatty acids and vitamin E found in neem oil are easily absorbed into the skin without leaving the skin greasy. Once absorbed, these powerful properties work to rejuvenate the skin's cells and restore elasticity. Vitamin E acts as a free radical scavenger, by hindering the oxidizing processes in the skin. It promotes soft and supple skin, helps in reducing old scars and promotes healing. Neem also stimulates collagen production, good for aging skin. Indeed, if used regularly, Neem oil helps smooth wrinkles and fine lines while helping to prevent the signs of aging. Neem oil may prove to be a natural remedy for eczema symptoms — including dry, red, itchy skin — and be very soothing, but it will not cure the root causes for eczema.
Key Ingredients
---
100% Pure Neem Oil extract
Ingredient's Source
---
100% Pure Neem Oil extract
By cold pressed wild crafted berries of Azadirachta Indica (neem plant) grown in Surat District, Gujrat, India
Best For
---
Normal skin
Oily skin
Combination skin
Sensitive skin
Dry skin
Prakriti
---
Neem oil works best on the Pitta Dosha. Neem essential oil controls body oils giving an even tone and texture to skin preventing acne. It also prevents acne causing bacteria and hence giving a perfect look.
Chakra
---
Neem oil has a combination of green and yellow prana. It purifies and strengthens the lower chakras, especially Basic and Navel.

When basic chakra is in balance, one feels grounded, secure, and have a confident relationship with money. In excess of the basic chakra, one can become lazy, overweight, and hoard objects. Conversely, when one have too little, they are flighty, distracted, underweight, and lose objects frequently.

The Navel chakra is located on the navel. Our physical body gets nutrients from eating and drinking and in the process produces hormones through the endocrine glands. Food, water and juices correspondence to different types of pranic energies, which are absorbed by the energy body. This chakra is the center of the instincts for knowing.
Zodiac
---
Capricorn:
Capricorn likes to look at things from all sides and take their time while doing so. Neem oil will relieve them of mental exhaustion and also helps them with the skin and hair problems that they face. Add a few drops to your shampoo and face wash for the best results.
Aquarius:
Aquarius argues a lot and most of all when they are not wrong, so this oil will help them boost their mood and focus on the positive side of things.
Colour Therapy
---
Green colour of neem works wonders for cleansing entire body and helps staying away from negative thoughts, emotions and energies.
Benefits
---
- Serves as a natural insecticide
- Skin Care Benefits, Including Help for Wrinkles, Dryness, and Acne

- Boosts Hair and Scalp Health

- Common cough, cold or seasonal fever can be well handled by Neem oil which has antibacterial properties stopping the growth of bacteria. 
How To Use
---
STEP 1
Dilute it with a carrier oil (any Massage oil) before applying on the skin.
STEP 2
For hair, mix 1 portion of neem oil with 10 portions of any carrier oil and massage into hair and scalp.
STEP 3
Add a few drops neem oil to shampoo to handle itchy scalp
STEP 4
For fungal infections & acne put 1 or 2 drops of neem oil in a cotton ball and use this in the affected area. Let it dry for some time and wash it with warm water.
Caution
---
Caution 1
Do not apply directly on the skin.
Caution 2
For external use only. Keep away from the eyes.
Description
---
Product Weight:
10 ml
Neem oil contains high level of antioxidants that protect the...
You recently viewed
Clear recently viewed