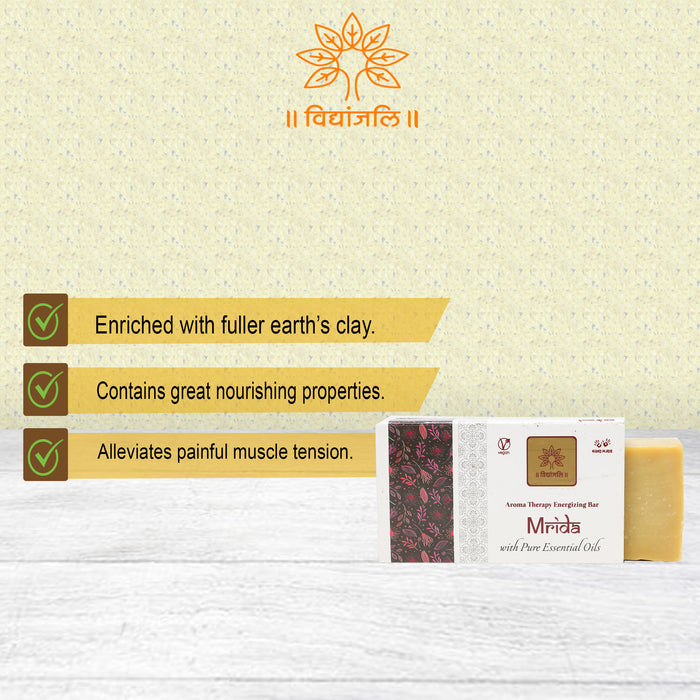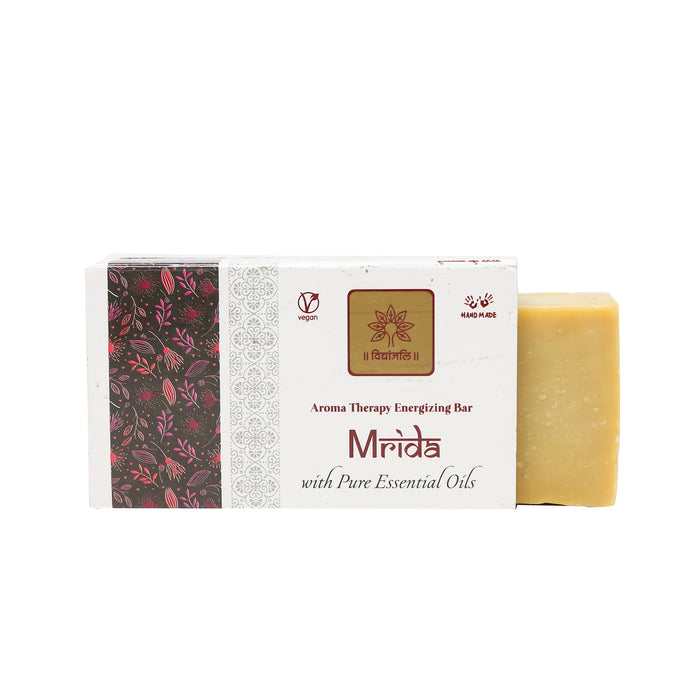 Description
---
Product Weight:
 9
0 g
Mrida soap is known for its exfoliating properties as it contain fuller's earth clay (multani mitti). It not only fights acne but also clears skin by fading blemishes. It helps in removing dead cells and unclogs the pores. Apart from this, it has great nourishing properties. The dried fruit from the Cinnamomum glaucescens (sugandha kokila tree) create an essential oil that is exotic, spicy, sweet, and camphoraceous. Besides alleviating painful muscle tension and joint inflammation, sugandha kokila essential oil can increase circulation and help control infections. Combine with juniper for a wonderful arthritis-relieving blend.
Key Ingredients
---
Aqua
Palm Oil
Coconut Oil
Sunflower Oil
Castor Oil
Sugandh Kokila extract
Color (FDA Approved, Color Code CI61565, EWG - Safe)
Ingredient's Source
---
Coconut Oil
Organic, Cold Rotary Pressed from Kangayam, Tamilnadu
Sunflower Oil
Seeds of Sunflower organically grown in Hoshangabad region, MP, India
Castor Oil
Cold pressed from the seeds of organic plants grown in Kangayam, Tamilnadu
Sugandh Kokila extract
It is native to Nepal and grows wild in the districts of Dang, Rolpa and Sallyan in the Rapti Zone. Using steam distillation, the dried berries of Cinnamomum glaucescens produce the essential oil commonly known as sugandha kokila oil.
Best For
---
Normal skin
Oily skin
Combination skin
Sensitive skin
Prakriti
---
It works great for Pitta and Kapha Doshas. Anti acne properties of Sugandh Kokila essential oil and fuller's clay helps to take off excess oil thereby keeping skin normal and oil free. The carrier oils also keeps the skin well hydrated.
Chakra
---
Sugandha Kokila essential oil in this has a golden prana. It works on all the major and minor chakras of the body, majorly on Basic and Ajna.
Zodiac
---
Libra:
Libras are loving, easygoing individuals. They don't like to get involved in drama and would much rather relax and keep to themselves. They're creative and they often like to get involved in different activities where they can use their creative minds to their fullest potential. Because they're known to be calm, the scents associated with Libras match this personality: earthy and clean.
Capricorn:
Capricorns are some of the most patient people you'll come across. Aside from being patient, they're down to earth and funny. The average Capricorn is a rather optimistic individual who regularly looks on the bright side of situations.

Capricorns are also known for having warm and caring personalities. Their personalities are most closely associated with warm scents with a hint of spice. Fuller's earth along with Sugandh kokila Essential oil works great for them.
Colour Therapy
---
Red, Yellow and Violet prana when used by people with rheumatic disorders, mental stress, initiate relaxation and improves energy flow through the body. This keeps one calm and distress free.
Seasonal Concerns
---
Sugandh kokila Essential Oil is very helpful to close open pores on skin thereby preventing black heads. Its anti-inflammatory properties cure localized pains and and is rejuvenating.
How To Use
---
STEP 1
Apply soap on wet body to create lather.
STEP 2
Rinse off with water.
Description
---
Product Weight:
 9
0 g
Mrida soap is known for its exfoliating properties as it contain fuller's earth clay (multani mitti). It...
You recently viewed
Clear recently viewed