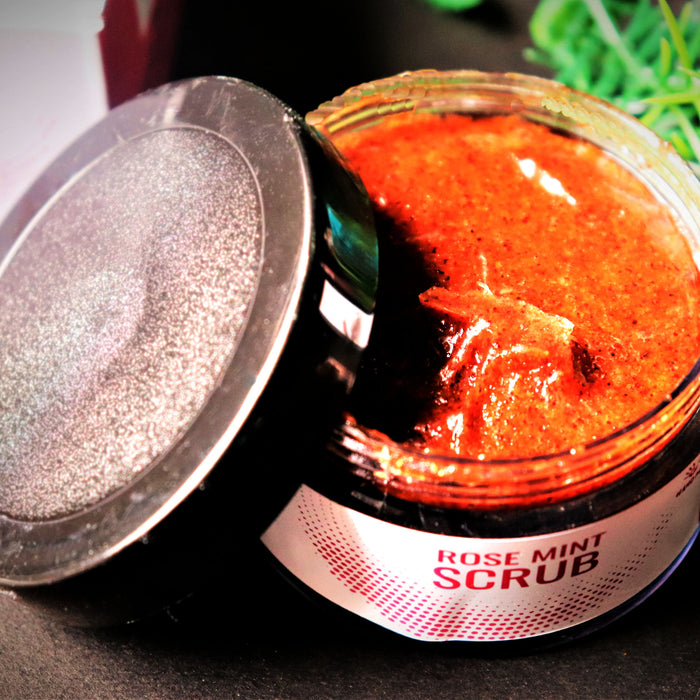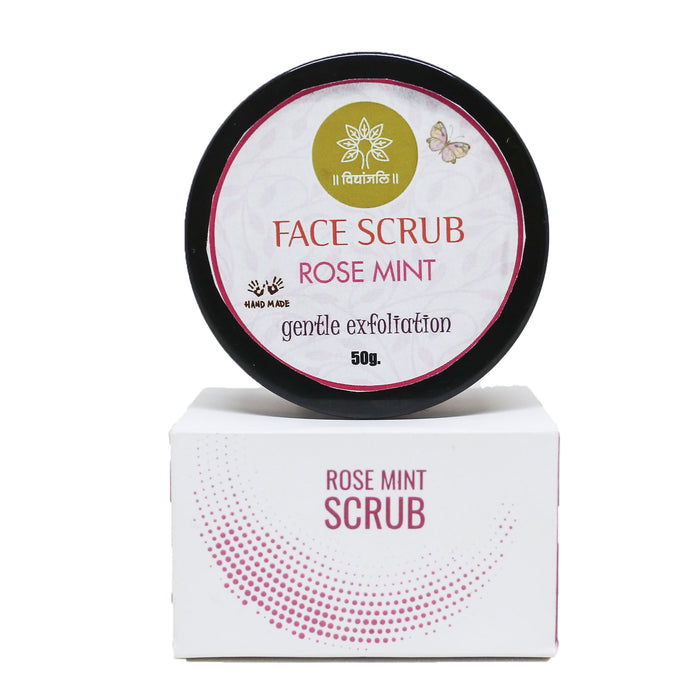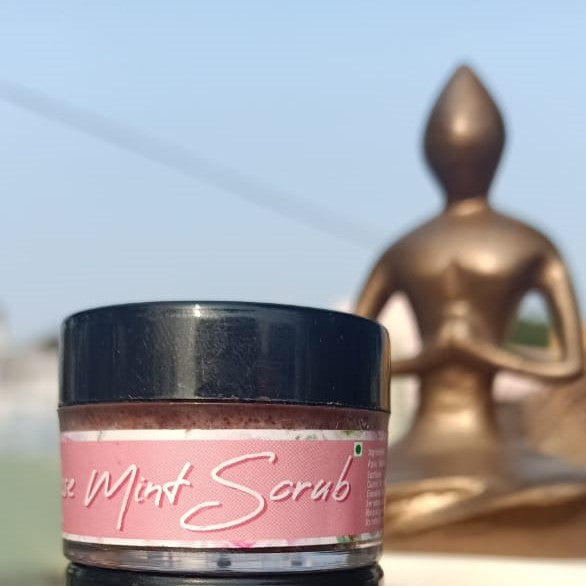 Description
---
Product Weight:
50 g
Mint Face Scrub is a mild exfoliating face scrub that gently removes the dirt and excess oil from the skin. Walnut shell granules effectively help in removing dead skin cells. Mentha or peppermint essential oil, apart from its anti-inflammatory and antibacterial role, gives a cooling effect to the skin. Its regular use cures acne and makes the skin glowing and youthful.
Key Ingredients
---
Aqua
Walnut Shell
Coconut Oil
Sunflower Oil
Palm Oil
Castor Oil
Mentha Essential Oil
Sugar
Color (FDA approved CI15850)
Ingredient's Source
---
Walnut Shell
Kashmir Walnut Shell
Coconut Oil
Organic, Cold Rotary Pressed from Kangayam, Tamilnadu
Sunflower Oil
Seeds of Sunflower organically grown in Hoshangabad region, MP, India
Castor Oil
Cold pressed from the seeds of organic plants grown in Kangayam, Tamilnadu
Mentha Essential Oil
Hydro Distilled from the leaves of mentha piperita plant grown in Kanpur, UP, India
Best For
---
Normal skin
Oily skin
Combination skin
Sensitive skin
Dry skin
Prakriti
---
Mint essential oil works best for Kapha Dosha making the skin, smooth and soft and removes congestion from organs and tissues including mind.
Chakra
---
Mint Scrub works great for the Solar Plexus Chakra which is a source of power, digestion, and self awareness. This is the part of the body where there is fire. When the Solar Plexus is in balance, we have optimal digestion, excellent self awareness, and appropriate assertiveness. But when out of balance, it manifests as excessive assertiveness, manipulation, or as a lack of direction or lack of purpose.

Also, the Throat Chakra is the house for appropriate communication. It listens as well as it speaks. A balanced throat chakra brings communications that are authentic, clear and not in excess or deficit. When the throat chakra is in excess, people talk too much, speak out of context, and have a domineering voice. In deficit, the voice is small, doesn't convey messages clearly, or doesn't listen effectively.

Not only this,it also works on the Basic Chakra, strengthening the skeletal makeup and improving the blood flow.
Zodiac
---
Aries:
Peppermint essential oil is excellent for calming the fierce nature of Aries. Peppermint can totally chill out the ambitious Aries who will find themselves rejuvenated, refocused and ready for a fresh start. A whiff of its radiant aroma will help alleviate those pesky headaches and when mixed into a massage oil, peppermint oil can help with those tender joints and cramped muscles, enabling an Aries to continue forward with their driving desires.
Colour Therapy
---
Green Colour of Mint Essential Oil works wonders for cleansing entire body and helps staying away from negative thoughts, emotions and energies. Yellow colour of walnut helps in treating neurological problems like mental tiredness or stress and improves blood circulation in the body. It also keeps one grounded and control anxiety.
Seasonal Concerns
---
Body Odour due to extreme climate as well as inflammation or nausea caused, Mentha Essential oil works wonder for these. It also removes sun-tan and dead skin cells due to climate change and gives even skin tone.
How To Use
---
STEP 1
Wash your face with normal water.
STEP 2
Take a dab of scrub on your palm. Rub between palms to get a smooth texture and then massage this on your face for 5 minutes.
STEP 3
Rinse off your face and pat dry.
Description
---
Product Weight:
50 g
Mint Face Scrub is a mild exfoliating face scrub that gently removes the dirt and excess...
You recently viewed
Clear recently viewed