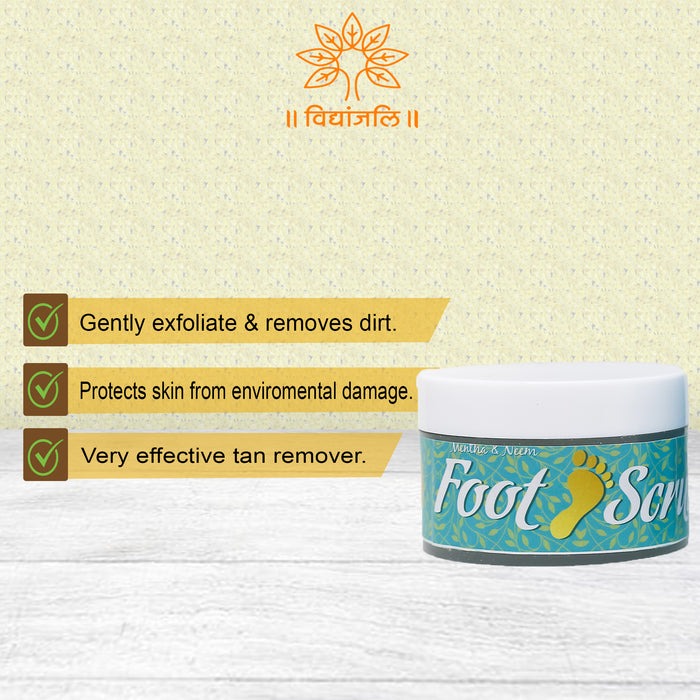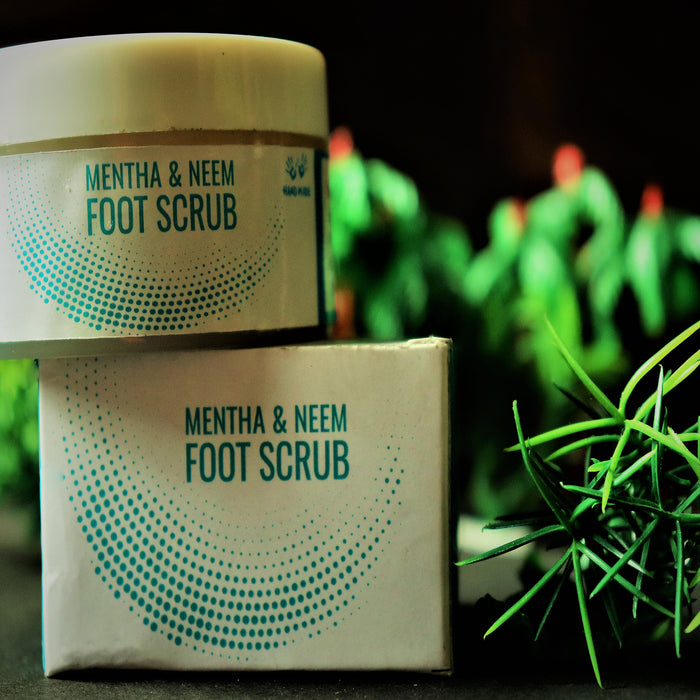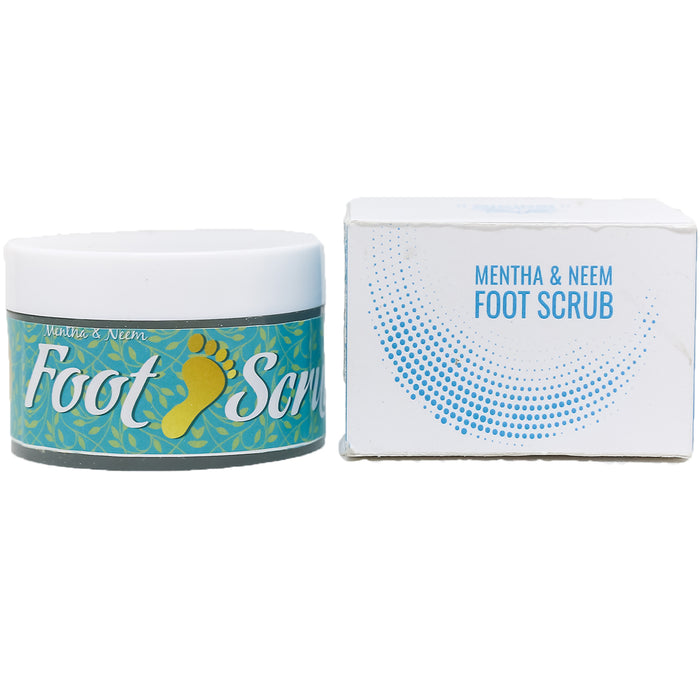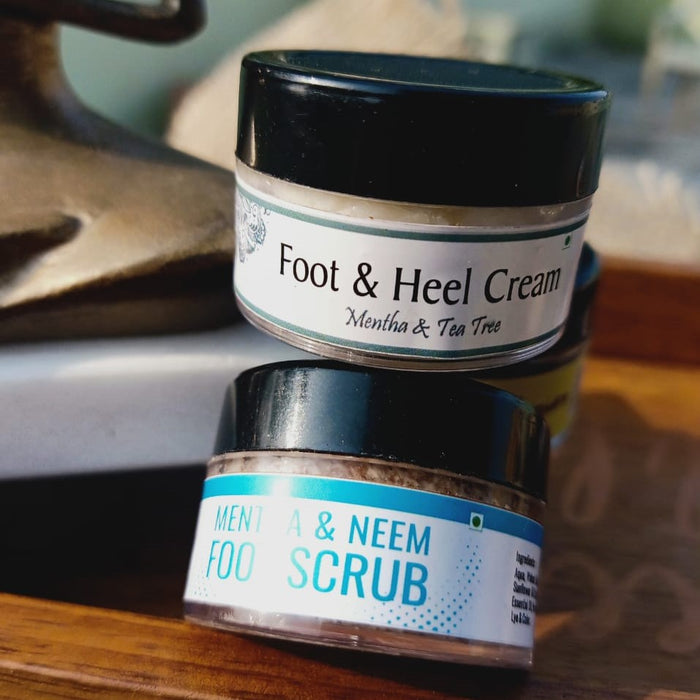 Description
---
Product Weight:
50 g
Mentha Neem Foot Scrub gently exfoliates and removes the dirt and dead layer off the skin. Menthol or peppermint essential oil has anti-inflammatory and anti-bacterial properties. While neem essential oil has high level of antioxidants that protects the skin from environmental damage. This scrub is a very effective tan-remover.
Key Ingredients
---
Aqua
Walnut Shell
Coconut Oil
Sunflower Oil
Palm Oil
Castor Oil
Mentha Essential Oil
Neem Essential Oil
Ingredient's Source
---
Walnut Shell
Kashmir Walnut Shell
Coconut Oil
Organic, Cold Rotary Pressed from Kangayam, Tamilnadu
Sunflower Oil
Seeds of Sunflower organically grown in Hoshangabad region, MP, India
Castor Oil
Cold pressed from the seeds of organic plants grown in Kangayam, Tamilnadu
Mentha Essential Oil
Hydro Distilled from the leaves of mentha piperita plant grown in Kanpur, UP, India
Neem Essential Oil
By cold pressed wild crafted berries of Azadirachta Indica (neem plant) grown in Surat District, Gujrat, India
Best For
---
Normal skin
Oily skin
Combination skin
Sensitive skin
Dry skin
Prakriti
---
Mentha Neem Foot Scrub works on both Pitta and Kapha Doshas thereby balancing them both. Neem essential oil controls body oils giving an even tone and texture to skin.

However, mentha essential oil along with coconut oil keeps the skin hydrated and works wonder for Kapha dosha.
Chakra
---
Mentha Neem Foot Scrub helps in balancing the Solar Plexus, the Throat and the Basic Chakras.

The solar plexus chakra is a source of power, digestion, and self awareness. This is the part of the body where there is fire. When the Solar Plexus is in balance, one has optimal digestion, excellent self awareness, and appropriate assertiveness. But when out of balance, it manifests as excessive assertiveness, manipulation, or as a lack of direction or lack of purpose.

TThe throat chakra is the house for appropriate communication. It listens as well as it speaks. A balanced throat chakra brings communications that are authentic, clear and not in excess or deficit. When the throat chakra is in excess, people talk too much, speak out of context, and have a domineering voice. In deficit, the voice is small, doesn't convey messages clearly, or doesn't listen effectively.

The basic chakra, located at the base of the spine, is the foundation of one's security. When this chakra is in balance, one feels grounded, secure, and has a confident relationship with money. In excess of this chakra, one can become lazy, overweight, and hoard objects. Conversely, when one has too little, they are flighty, distracted, underweight, and lose objects frequently.
Zodiac
---
Leo:
Since Leos are ruled by fire, it might affect their heart so they must keep in mind to use peppermint/mint oil in aromatherapy to boost their heart health. Both their physical and mental congestion can be treated by peppermint oil, it will also let their pent up frustrations go loose.
Colour Therapy
---
Green colour of mint and neem essential oils works wonders for cleansing entire body and helps staying away from negative thoughts, emotions and energies. Yellow and Blue prana on the other hand brings relaxation and stimulate subtle flow of energies in the body and treat milk insomnia.
Seasonal Concerns
---
One can stay away from mamy sesaonal allergies and infections with the regular use of products with Mint and Neem Essential Oils which has antibacterial properties stopping growth of bacteria.
How To Use
---
STEP 1
Wash your feet with normal water.
STEP 2
Take a dab of scrub on your palm. Rub between palms to get a smooth texture and then massage this on your feet for 5 minutes.
STEP 3
Rinse off your feet and pat dry.
Description
---
Product Weight:
50 g
Mentha Neem Foot Scrub gently exfoliates and removes the dirt and dead layer off the skin....
You recently viewed
Clear recently viewed