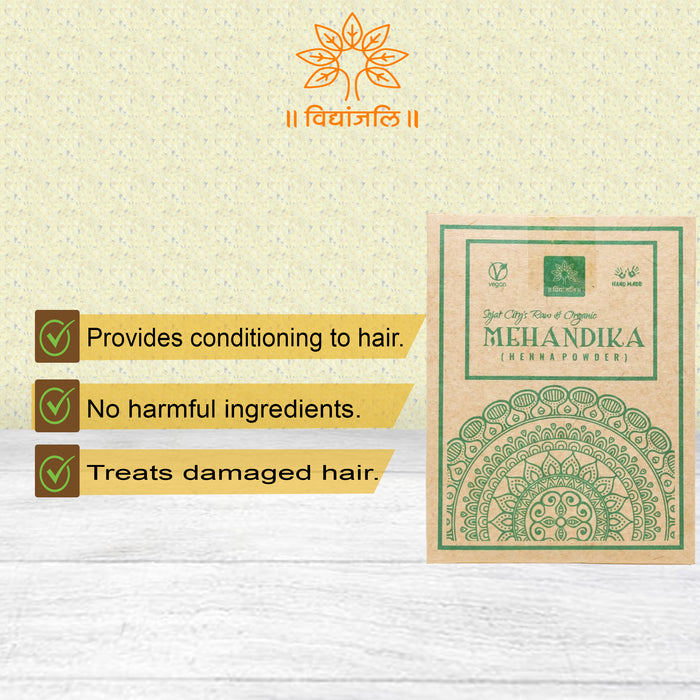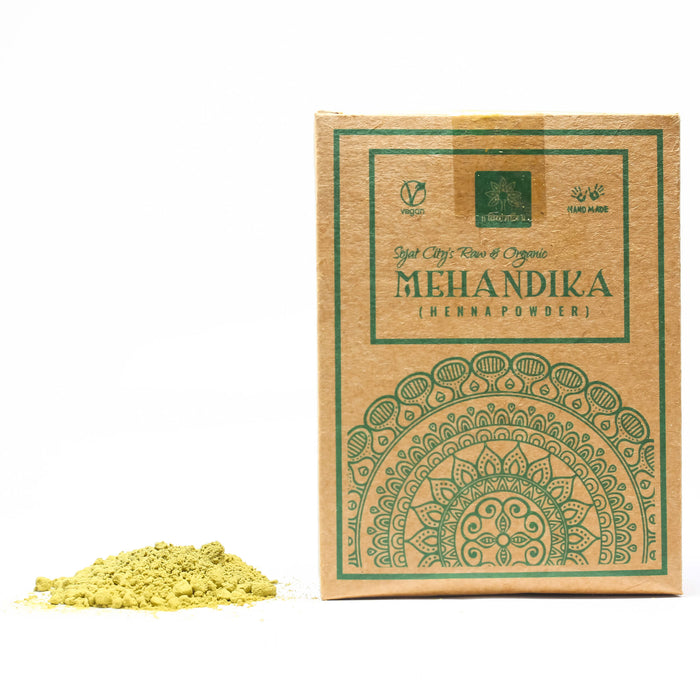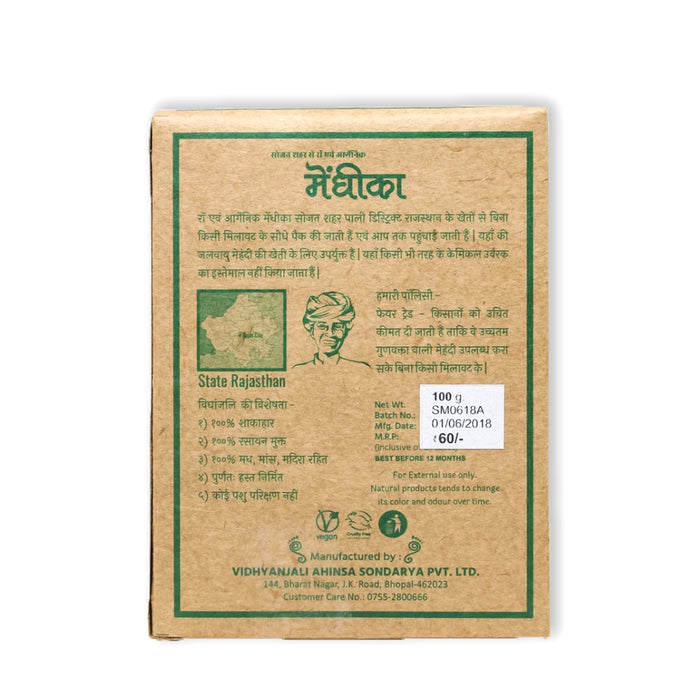 Mehandika/ Henna Powder - 90g
Description
---
Product Weight:
 9
0 g
Henna Powder (Lawsonia Inermis), traditionally known as Mehandi, is extracted from the flowering plant Lawsonia Inermis which grows across South Asia and Northern Africa. Vidhyanjali's Mehendika (henna powder) prepared from premium quality Mehandi leaves from the field of Sojat, Rajasthan.

Used for centuries in India, the Middle East, and North Africa to create body art, Henna is a pure and natural plant dye that is used as an intensive conditioning treatment for hair, whilst giving a subtle brownish-red colour. An Indian tradition, brides have their hands and feet beautifully decorated before the wedding day with intricate Henna designs. It is a natural conditioner for hair, natural hair colourant, creates beautiful body art.

Vidhyanjali's Mehandika powder is 100% natural, without any artificial fragrance or preservatives. Not tested on animals. Suitable for vegetarians & vegans. Whereas the common black henna of the market and glucose-pre-mixed commercial henna body art pastes may have undisclosed ingredients added to darken stain, or to alter stain color. The health risks involved in the premixed paste can be significant. The United States Food and Drug Administration (FDA) does consider these risks to be adulterants and therefore illegal for use on skin. Some commercial pastes have been noted to include: p-Phenylenediamine, ammonia, hydrogen peroxide (bleach), sodium picramate, amaranth (dye) (red dye #2 banned in the US in 1976), silver nitrate, carmine, pyrogallol, disperse orange dye, and chromium. These have been found to cause allergic reactions, chronic inflammatory reactions, or late-onset allergic reactions to hairdressing products and textile dyes
Key Ingredients
---
100% Organic Mehandi Leaf Powder
Ingredient's Source
---
100% Organic Mehandi Leaf Powder
Hand picked from the wild crafted Mehndi plants in Sojat City, Rajasthan, India
Best For
---
Normal skin
Combination skin
Dry Skin
Oily Skin
Sensitive Skin
Prakriti
---
All Doshas: Vata, Pitta and Kapha.
Chakra
---
The Throat Chakra is the house for appropriate communication. It listens as well as it speaks. A balanced throat chakra brings communications that are authentic, clear and not in excess or deficit. When the throat chakra is in excess, people talk too much, speak out of context, and have a domineering voice. In deficit, the voice is small, doesn't convey messages clearly, or doesn't listen effectively.

It helps in balancing the Root Chakra which is located at the base of the spine. When this chakra is in balance, we feel grounded, secure, and have a confident relationship with money. In excess of the root chakra, we can become lazy, overweight, and hard objects. Conversely, when we have too little, we are flighty, distracted, underweight, and lose objects frequently.
Zodiac
---
Colour Therapy
---
Green and Yellow prana works wonders for the cleansing of the entire body and helps to stay away from negative thoughts, emotions, and energies. It also brings in relaxation and stimulates the subtle flow of energies in the body.
Seasonal Concerns
---
Dry damaged hair, scalp problems, dandruff, itching, greying of hair can be treated by Mehandika. This also nourishes hair and makes them soft and shiny.
How To Use
---
STEP 1
For Hair
- Take enough powder depending upon the hair length in a mixing bowl.
Mix the powder with water, curd, or methi water to make a paste and keep it aside for 3-4 hours.
Apply on hair and leave it for 60 minutes.
Rinse thoroughly with water.
For best results, apply Indigo Powder post this.
STEP 2
For Hands
- Take enough powder in a mixing bowl and add a few drops of
Mehndi Oil
for a darker stain.
Add water to this to make a smooth paste and keep it aside for few hours.
Description
---
Product Weight:
 9
0 g
Henna Powder (Lawsonia Inermis), traditionally known as Mehandi, is extracted from the flowering plant Lawsonia Inermis which...
You recently viewed
Clear recently viewed