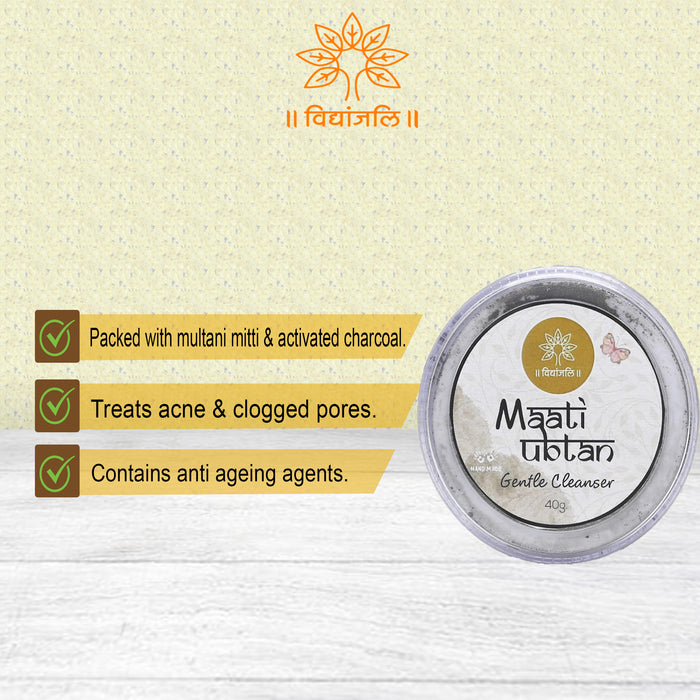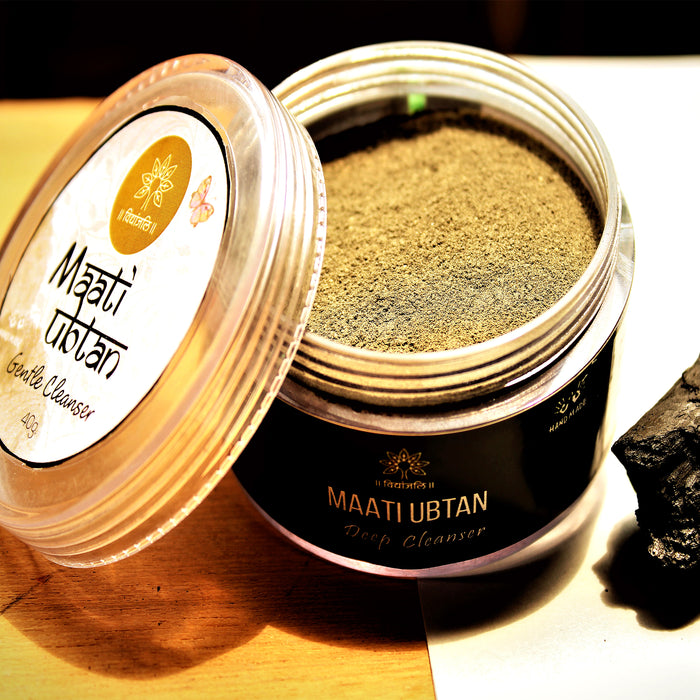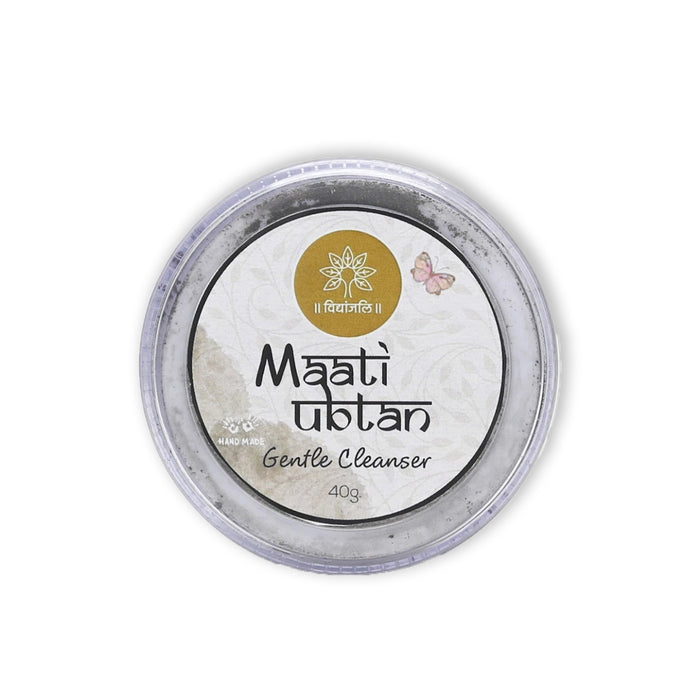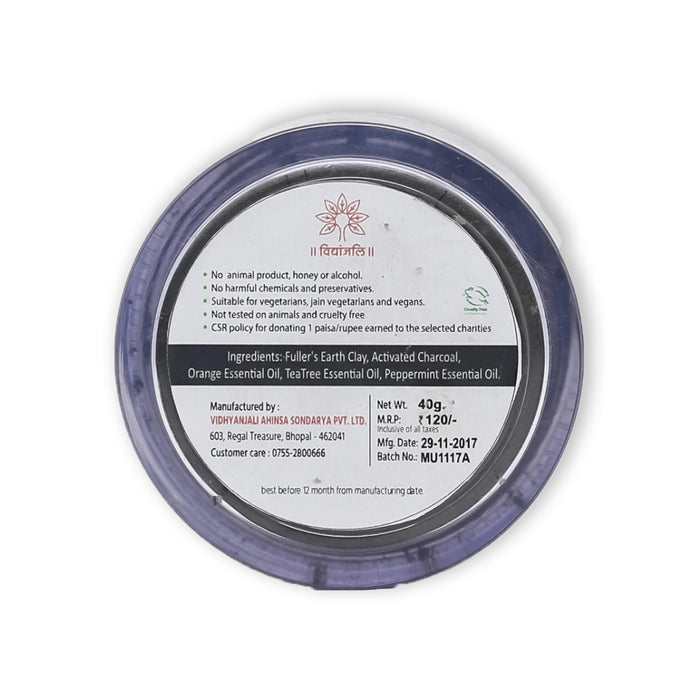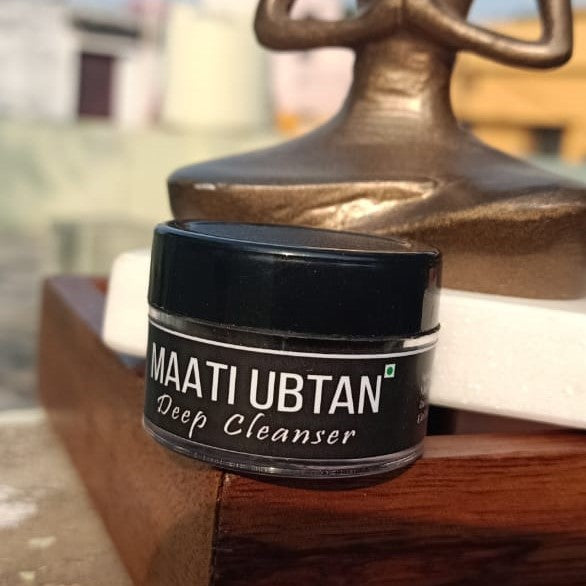 Description
---
Product Weight:
40 g / 10 g
It contains Multani mitti (fuller's earth) which is a deep cleanser and a detoxifier. It is power packed with activated charcoal – ideal for oily and acne-prone skin. Maati Ubtan is embedded with the goodness of orange, tea tree, and peppermint essential oils. Orange essential oil enhances blood flow in the skin, opens clogged pores, treats acne, tightens the skin and is an anti-aging agent. Tea tree essential oil has antibacterial, antifungal and antiseptic properties that make it suitable for acne and fungal infections of the skin. Peppermint essential oil, apart from its anti-inflammatory and antibacterial role, is also very soothing & cooling for the skin.
Key Ingredients
---
Fuller Earth Clay
Activated Charcoal Powder
Orange essential oil
Tea Tree Essential Oil
Peppermint Essential Oil
Ingredient's Source
---
Fuller Earth Clay
Barmer, Rajasthan
Activated Charcoal Powder
Bamboo Wood
Orange essential oil
asdasd
Tea Tree Essential Oil
Hydro Distilled from the leaves of Teatree plant leaves grown in Queensland and New South Wales, Australia
Best For
---
Normal skin
Combination skin
Oily Skin
Prakriti
---
It works great for Kapha Dosha. Anti-acne properties of Tea Tree essential oil and fuller's clay helps to take off excess oil thereby keeping skin normal and oil free. The peppermint essential oil also keeps the skin well hydrated leaving a cooling effect behind. Orange essential oils help in reducing dark spots and giving a glowing effect on the skin.
Chakra
---
The Throat Chakra is the house for appropriate communication. It listens as well as it speaks. A balanced throat chakra brings communications that are authentic, clear and not in excess or deficit. When the throat chakra is in excess, people talk too much, speak out of context, and have a domineering voice. In deficit, the voice is small, doesn't convey messages clearly, or doesn't listen effectively.

The Basic Chakra, located at the base of the spine, is the foundation of one's security. When this chakra is in balance, one feels grounded, secure, and has a confident relationship with money. In excess of this chakra, one can become lazy, overweight, and hoard objects. Conversely, when one has too little, they are flighty, distracted, underweight, and lose objects frequently.

The Sacral Chakra is the water element in the body. Creativity, sexuality, and inner joy are housed in the sacral chakra. When it is in balance, one pursues creative projects, flows with the waves of life, and have a normal sexual relationship with oneself and others.
Zodiac
---
Cancer:
It will ease digestion problem and anxiety issues in people with Cancer as their zodiac sun sign.
Sagittarius:
Sagittarians tend to suffer from wanderlust; traveling, moving, and experiencing new realities - the fun-loving adventurers and entertainers of the zodiac! Intelligent, friendly and enthusiastic as well as honest and outspoken with their ideas and philosophies, their gregarious and outgoing temperament can also make them restless.
Aries:
Aries demonstrate a courageous and industrious nature. However, their determination and pioneering spirit can sometimes cause them to seem impatient and overly assertive. The best essential oil to balance their enthusiasm is the calming and cooling Orange (Citrus sinensis). Orange's harmonizing, uplifting energy can help relieve stresses of any kind and ease the excesses of ego-driven frustrations.
Gemini:
The average Gemini is a persuasive individual who likes to have things his or her way. Many people are attracted to this sign simply because Geminis are ambitious and often take on leadership roles. Although they're charming and ambitious, they are also known to be stubborn.

Based on their personalities, Geminis are linked to floral, fruity scents, including jasmine, lemon, sweet orange, and neroli essential oils.
Colour Therapy
---
Green Colour of Tea Tree Essential Oil along with complimentary Orange Prana works wonders for cleansing the entire body. Whereas, the Blue color of Charcoal relaxes and balances all the chakras also subduing effects of orange color preventing eruptions and hence treating acne.
Seasonal Concerns
---
Eruptions/acne or open pores
due to climatic change can be treated well with Activated Charcoal Bar due to the presence of Tea Tree Essential Oil. Lavender Oil, on the other hand, takes care of anxiety and restlessness due to extreme conditions.
How To Use
---
STEP 1
Damp your skin with normal water.
STEP 2
Mix Maati Ubatan with rose water or raw milk to make a paste & apply to your face and neck.
STEP 3
Leave it till it turns grey/dries up completely.
STEP 4
Rub it gently with some water, massaging your face from chin to forehead to loosen the pack.
STEP 5
Wash it off with normal water.
STEP 6
Use it at an interval of 15 days.
Description
---
Product Weight:
40 g / 10 g
It contains Multani mitti (fuller's earth) which is a deep cleanser and a...
You recently viewed
Clear recently viewed