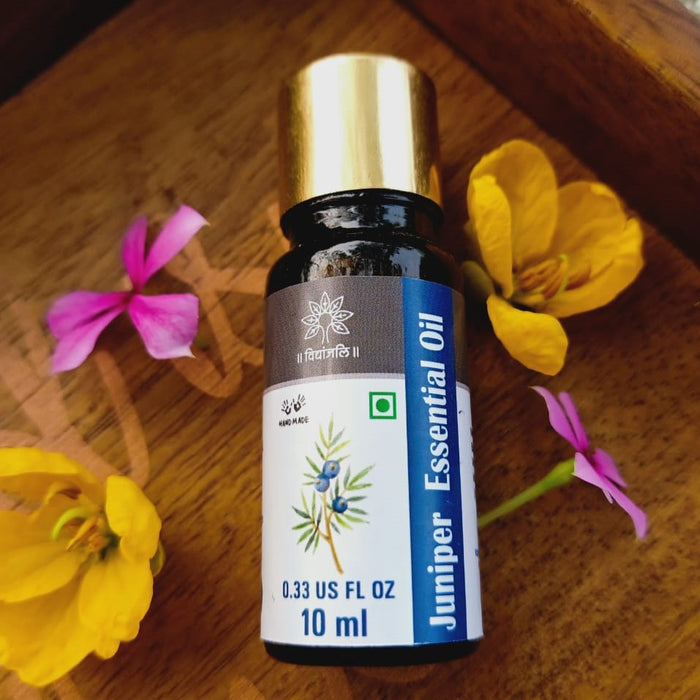 Juniper Berry Essential Oil
Description
---
Product Weight:
10 ml
Juniper berry essential oil typically comes from the fresh or dried berries and needles of the Juniperus communis plant species. Known as a powerful detoxifier and immune system booster, juniper berry plants originate from Bulgaria and have a long history of naturally helping prevent both short- and long-term illnesses.
Juniper berries themselves are high in flavonoid and polyphenol antioxidants that have strong free radical scavenging abilities.

Key Ingredients
---
100% natural Juniper Berry Oil
Ingredient's Source
---
100% natural Juniper Berry Oil
Best For
---
Normal skin
Oily skin
Combination skin
Sensitive skin
Dry Skin
Prakriti
---
Juniper Berry essential oil works best for Kapha and Vata Dosha making the skin, smooth and soft and removes congestion from organs and tissues including the mind.
Chakra
---
The solar plexus chakra is a source of power, digestion, and self-awareness. This is the part of the body where there is fire. When the Solar Plexus is in balance, we have optimal digestion, excellent self-awareness, and appropriate assertiveness.
Zodiac
---
Cancer:
It will ease the digestion problem and anxiety issues. Add a couple of drops of lavender oil to your pillow and breathe it in all night for a fresh morning with healthy mind and body.
Taurus:
Because they're warm, kind-hearted people, the Taurus personality is linked to floral scents.
Colour Therapy
---
Violet color of Juniper Berry Essential Oil tends to bring great relaxation and also like blue, can often be felt like waves of coldness. It does not stimulate basic circulation, but it does stimulate the flow of the more subtle energies throughout the psychic centers and the nervous system.
Benefits
---
- Treats Heart burn and Acid reflux
- Insect repellent
- Natural Antiseptic for homes
- Flavor enhancer and natural preservative
How To Use
---
STEP 1
It is strongly recommended to dilute it with a carrier oil (any massage oil) before applying on the skin.
STEP 2
For Hair and Skin- Use 1 to 2 drops mixed with a carrier oil as a gentle astringent or moisturizer after washing your face. You can also add some to your shower to help treat blemishes and foot odors and fungus. For hair and scalp, you can add a few drops to your shampoo and/or conditioner.
STEP 3
For Digestive Aid- you can try taking juniper oil as a dietary supplement by adding 1 to 2 drops to a smoothie or water.
STEP 4
For Sleep- Diffuse in a diffuser.
STEP 5
For Heart Burn and acid reflux- massage 1 to 2 drops of juniper berry oil blended with coconut oil over the entire stomach, abdomen and chest.
STEP 6
For Cellulite- Add to your cream and massage twice. 
STEP 7
As Insect repellent/Natural antiseptic for home- Spray it on your clothes, mix it with a carrier oil and massage into your skin, or diffuse it indoors and outdoors to purify the air and help prevent bug bites.
Caution
---
Caution 1
Do not apply directly on the skin.
Caution 2
For external use only. Keep away from eyes.
Description
---
Product Weight:
10 ml
Juniper berry essential oil typically comes from the fresh or...
You recently viewed
Clear recently viewed