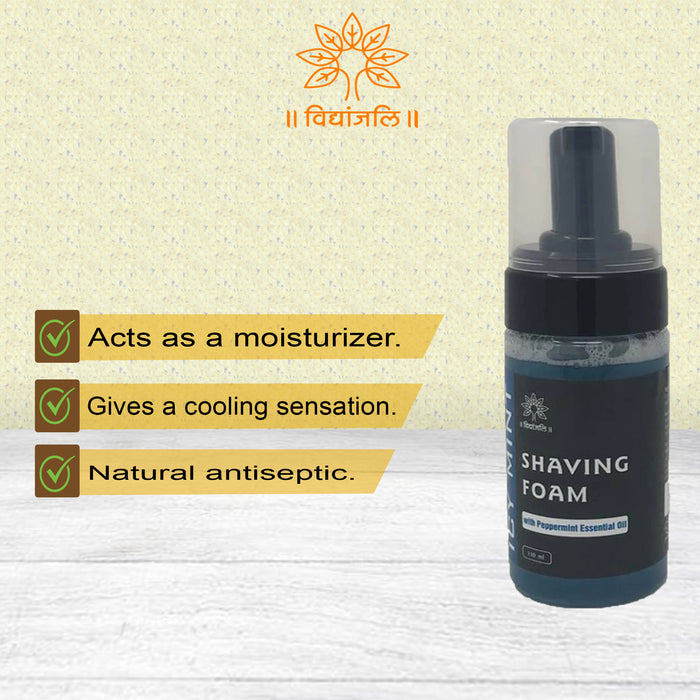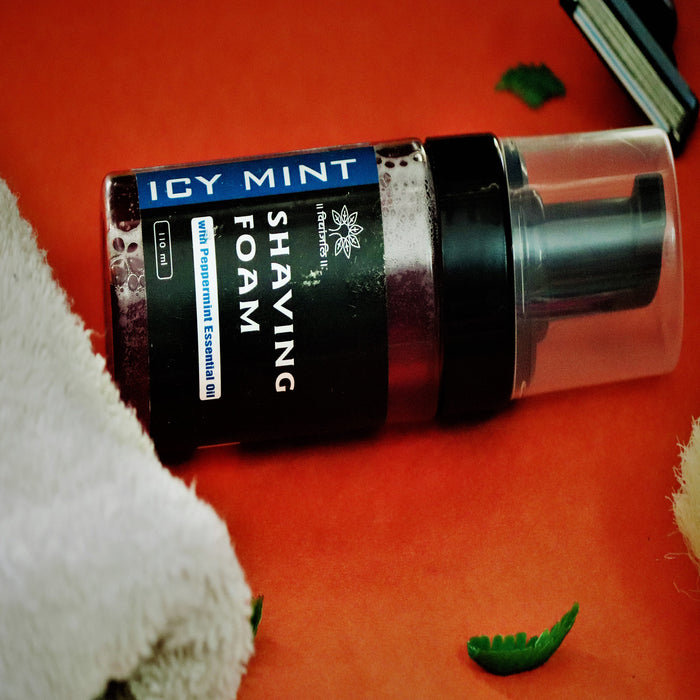 Description
---
Product Weight:
110 g
The all-new shaving experience blended with natural peppermint essential oil acts as a moisturizer and create a protective layer over the skin as one's shave. Peppermint oil contains menthol, which creates that cooling sensation when applied to the skin, it acts as a natural antiseptic to repair skin damage.
Key Ingredients
---
Aqua
Coconut Oil
Peppermint Essential Oil
Color & Fragnance
Ingredient's Source
---
Coconut Oil
Organic, Cold Rotary Pressed from Kangayam, Tamilnadu
Color (FDA Approved, Color Code CI61565, EWG - Safe)
Best For
---
Normal skin
Oily skin
Combination skin
Sensitive skin
Dry skin
Prakriti
---
Peppermint essential oil works best for Kapha Dosha making the skin, smooth and soft and removes congestion from organs and tissues including the mind.
Chakra
---
The Solar Plexus Chakra is a source of power, digestion, and self-awareness. This is the part of the body where there is fire, and so we want to use fiery essential oils. When the Solar Plexus is in balance, we have optimal digestion, excellent self-awareness, and appropriate assertiveness. But when out of balance, it manifests as excessive assertiveness, manipulation, or as a lack of direction or lack of purpose.

The Throat Chakra is the house for appropriate communication. It listens as well as it speaks. A balanced throat chakra brings communications that are authentic, clear and not in excess or deficit. When the throat chakra is in excess, people talk too much, speak out of context, and have a domineering voice. In deficit, the voice is small, doesn't convey messages clearly, or doesn't listen effectively.
Zodiac
---
Aries:
Lead by their head through their fiery, straightforward, energetic, curious and competitive spirit, this sign is prone to headaches and stress-related problems.

Arians who utilize the benefits of peppermint oil often find themselves rejuvenated and ready for a fresh start. Peppermint oil is also an excellent way to reduce the stress often felt by this sign, as well as remove those pesky headaches, enabling an Aries to continue forward with their driving desires.
Colour Therapy
---
The green color of Mint Essential Oil works wonders for cleansing the entire body and helps to stay away from negative thoughts, emotions, and energies. Blue Prana, on the other hand, brings relaxation.
Seasonal Concerns
---
Inflammation, skin irritation or redness, Mentha Essential oil in shaving Foam works wonder for these.
How To Use
---
STEP 1
Wash your Face properly.
STEP 2
Take a spray of foam on a shaving brush.
STEP 3
Create a lather by rubbing gently wherever required.
STEP 4
Use a sterilized/new blade to take off hair.
STEP 5
Repeat the process if required.
Description
---
Product Weight:
110 g
The all-new shaving experience blended with natural peppermint essential oil acts as a moisturizer and create...
You recently viewed
Clear recently viewed