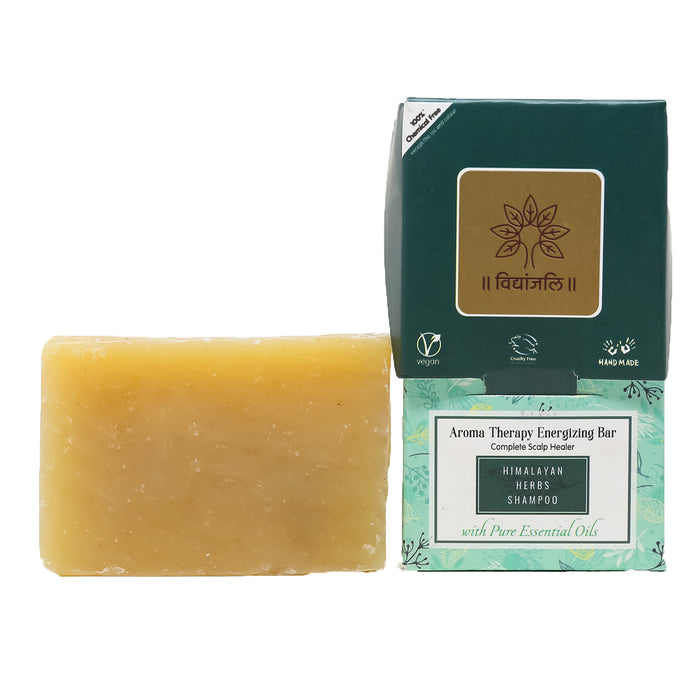 Himalayan Herb Shampoo Bar
Description
---
Product Weight:
 9
0 g
It is enriched with the goodness of multiple oils and herbs that are rich in vitamins and minerals that stimulates hair growth getting deep into its follicles to stop dandruff and promotes the scalp health adds luster, shine, and softness to the hair. Also prevents hair breakage and split ends, contributing to hair length. Herbs like shikakai, bhringraj, and amla boost blood circulation and ensure better nourishment for hair follicles resulting in hair growth. Fenugreek seed extract act as anti-dandruff and lemon oil get rid of the excess oil from the scalp.
Key Ingredients
---
Aqua
Coconut Oil
Castor Oil
Sunflower Oil
Palm Oil
Lemon Oil
Fenugreek Seeds
Amla
Shikakai
Bhringraj
Ingredient's Source
---
Organic, Cold Rotary Pressed from Kangayam, Tamilnadu
Castor Oil
Cold pressed from the seeds of organic plants grown in Kangayam, Tamilnadu
Sunflower Oil
Seeds of Sunflower organically grown in Hoshangabad region, MP, India
Lavender Oil
Steam Distillation of Lavender Flowers comes from Queensland and New South Wales, Australia
Lemon Oil
Cold pressed from the rind of organically grown lemon
Fenugreek Seeds
Bhopal, MP, India
Amla
Hand picked by the villagers in Katni Forest, MP, India
Shikakai
Hand picked by the villagers in Katni Forest, MP, India
Bhringraj
Wild crafted from the Katni Forest, MP, India
Best For
---
Normal skin
Oily skin
Combination skin
Sensitive skin
Dry skin
Prakriti
---
Works best for treating Pitta and Kapha Dosha. Lavender and Lemon oil along with a combination of other oils, helps in deep cleansing. Coconut oil will also help in keeping scalp skin calm and hydrated all day long. Lemon Oil will help in clearing the excess oil (sebum) produced.
Chakra
---
Lemon essential oil works on the Solar Plexus Chakra. The solar plexus chakra is a source of power, digestion, and self-awareness. This is the part of the body where there is fire. When the Solar Plexus is in balance, we have optimal digestion, excellent self-awareness, and appropriate assertiveness.
Zodiac
---
Cancer:
It will ease the digestion problem and anxiety issues. Add a couple of drops of lavender oil to your pillow and breathe it in all night for a fresh morning with healthy mind and body.
Aquarius:
They argue a lot and most of all when they are not wrong, so this oil will help them boost their mood and focus on the positive side of things. Adding lemon to their tea might help them sooth their sinuses and using the oil in their bath will uplift their mood.
Colour Therapy
---
Orange color oil helps in treating Neurological problems like mental tiredness or stress and improves blood circulation in the body.

Green Colour of Fenugreek Seeds along with complimentary orange Prana works wonders for cleansing the entire body. Whereas, Violet color of Lavender essential Oil relaxes and balances all the chakras also subduing effects of orange color preventing eruptions and hence treating acne.
Seasonal Concerns
---
Weather-related hair fall, scalp acne, dandruff, split ends can be well managed by the herbs used in the shampoo bar.
How To Use
---
STEP 1
Damp hair and rub shampoo bar.
STEP 2
Rinse off with sufficient water.
STEP 3
For best results, apply Samagra Oil after hair wash and not before.
Description
---
Product Weight:
 9
0 g
It is enriched with the goodness of multiple oils and herbs that are rich in vitamins and...
You recently viewed
Clear recently viewed