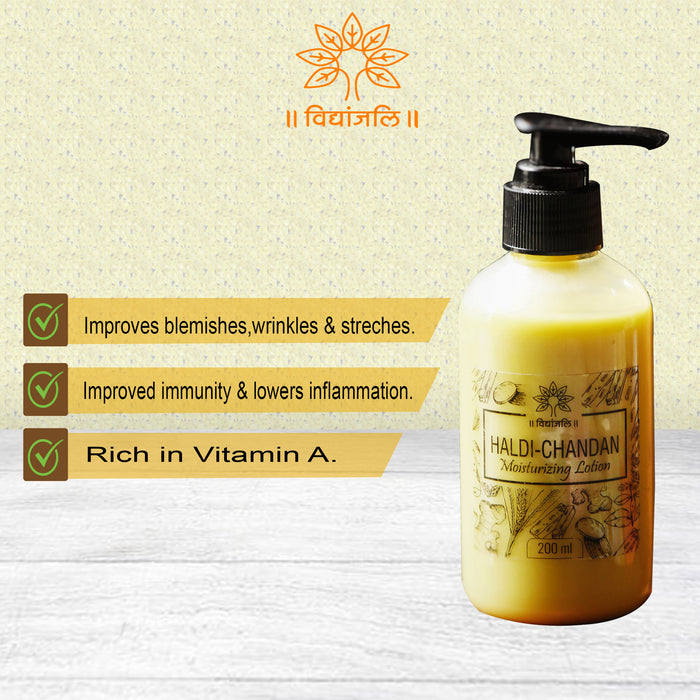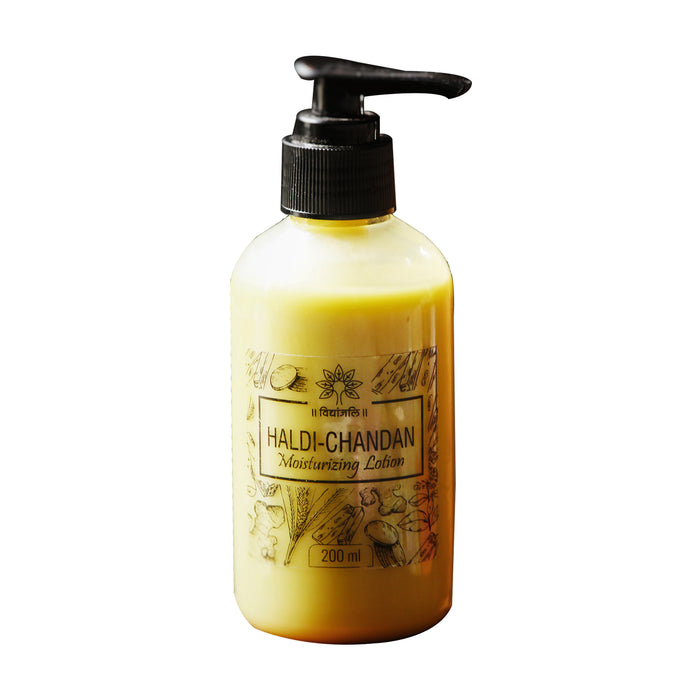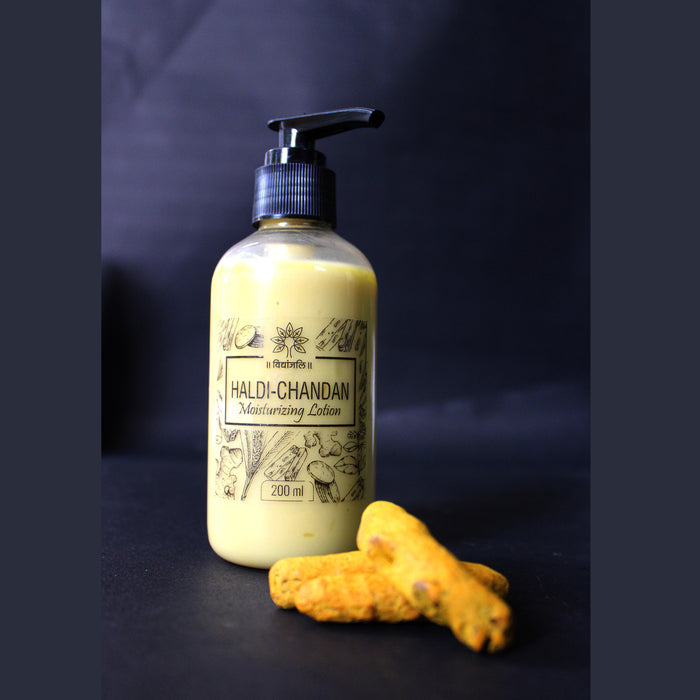 Haldi Chandan Moisturizing Lotion - 200ml
Description
---
Product Weight:
200 ml
Cocoa butter is obtained from whole cocoa beans which contains a high proportion of saturated fats as well as monounsaturated oleic acid which is high in antioxidants, it contains a high amount of polyphenol and flavonoid that is beneficial for improving immunity and lowering inflammation. Shea butter obtained from the nuts of the shea tree is full all-natural vitamin A that improves blemishes, wrinkles, stretch marks, muscle fatigue, and dermatitis. Turmeric essential oil is considered to be a strong antimicrobial, relaxant, and balancer to the body and mind. Chandan (Sandalwood) essential oil is very effective at balancing out testosterone levels in both men and women.
Key Ingredients
---
Aqua
Shea Butter
Cocoa Butter
Coconut Oil
Carbopol
Soya Lecithin
Turmeric Essential Oi
Sandalwood Essential Oil
Sodium Benzoate
Potassium Sorbate
Ingredient's Source
---
Shea Butter
Kernel of Shea Butter, Burkina Faso, Africa
Cocoa Butter
Cocoa Oil extracted from Cocoa Beans, South India
Coconut Oil
Organic, Cold Rotary Pressed from Kangayam, Tamilnadu
Turmeric Essential Oi
Hydro Distilled from the Leaf and rizomes of the Turmeric plant grown near Nagpur, MH, India
Color (FDA Approved, Color Code CI61545, EWG - Safe)
Best For
---
Normal skin
Combination skin
Dry Skin
Oily Skin
Sensitive Skin
Prakriti
---
Haldi Chandan Face Cream works best for treating Kapha Dosha. Turmeric oil and Sandalwood oil along with a combination of other oils helps in deep cleansing. Coconut oil will also help in keeping skin calm and hydrated all day long.
Chakra
---
Haldi Chandan Face Cream helps to balance the Third Eye Chakra or the Ajna Chakra along with the Solar Plexus Chakra.

The third eye or the ajna is the seat of vision and dreams. When it is in balance, one can see their future clearly and have memorable dreams. Insomnia, procrastination, and fear result when the ajna or the third eye is out of balance.

The solar plexus chakra is a source of power, digestion, and self-awareness. This is the part of the body where there is fire, and so one should sue fiery essential oils. When the solar plexus is in balance, one has optimal digestion, excellent self-awareness, and appropriate assertiveness. But when out of balance, it manifests as excessive assertiveness, manipulation, or as a lack of direction or lack of purpose.
Zodiac
---
Pisces:
Pisces are some of the most caring individuals out of all of the astrological signs. These individuals are selfless and emotional. Pisces individuals are known to be lovers by nature. They love being in love, the thought of love, and of course, the individuals they love. Their personalities are often linked to delicate, romantic scents.
Virgo:
The Virgo is a proud, loving individual who is kind to others. However, their kindness shouldn't be taken as a weakness because they're strong and honest people. If they don't like something, they're not afraid to speak up about what is going on. This person is often a perfectionist.

Because of their kind and loving spirits, the scents they're associated with are fresh and clean. As a result, sandalwood is one of them.
Colour Therapy
---
Haldi Chandan Face Cream is associated with the Yellow and Green color. Both the colors tend to reduce tension and confusion, further leading to relaxing, harmonizing and calming mood.
Seasonal Concerns
---
It helps alleviate scars and marks left on the skin due to acne or other skin issues.
How To Use
---
STEP 1
Take a sufficient amount on your palm and use it all over your face & body after bath.
Description
---
Product Weight:
200 ml
Cocoa butter is obtained from whole cocoa beans which contains a high proportion of saturated fats...
You recently viewed
Clear recently viewed