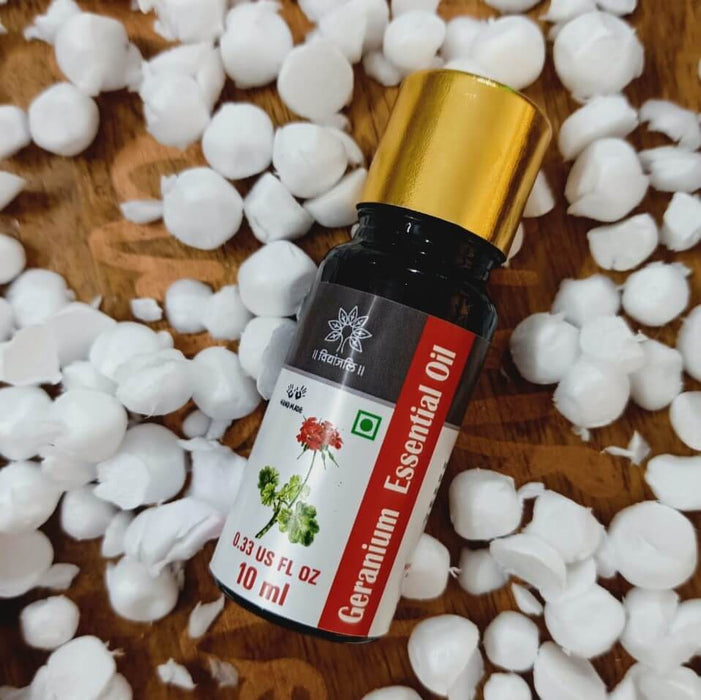 Geranium Essential Oil - 10ml
Description
---
Product Weight:
10 ml
Geranium oil is extracted from the stems, leaves and flowers of the geranium plant. Geranium oil is considered nontoxic, nonirritant and generally non-sensitizing — and the therapeutic properties of it include being an antidepressant, an antiseptic and wound-healing. 
Key Ingredients
---
100% natural Geranium Oil
Ingredient's Source
---
100% natural Geranium Oil
Best For
---
Dry skin
Combination skin
Sensitive skin
Prakriti
---
Geranium essential oil works best for Pitta and Vata Dosha making the skin, smooth and soft.
Chakra
---
It helps in balancing the Crown Chakra. The crown chakra is our connection with the universe or God. It is our energy that reaches up to the sky.
The Throat Chakra is the house for appropriate communication. It listens as well as it speaks. A balanced Throat Chakra brings communications that are authentic, clear and not in excess or deficit. When the Throat Chakra is in excess, people talk too much, speak out of context, and have a domineering voice. In deficit, the voice is small, doesn't convey messages clearly, or doesn't listen effectively.


Zodiac
---
Scorpio:
Scorpions are bold and courageous. They have an investigative spirit and can be penetrated in their desire to research and understand the intricacies of day-to-day mysteries. 
Colour Therapy
---
Green Colour of Geranium Oil works wonders for cleansing the entire body and helps to stay away from negative thoughts, emotions, and energies.
Benefits
---
How To Use
---
STEP 1
It is strongly recommended to dilute it with a carrier oil (any massage oil) before applying on the skin.
STEP 2
Wrinkle Reducer: Put 2 drops of Geranium essential oil to your face lotion and apply it twice daily.
STEP 3
Muscle Toner- Put few drops of Geranium essential oil to Jojoba or coconut oil and massage on sore muscles.
STEP 4
Natural deodourant/ Bug replellent- Dilute few drops with water in a spray bottle and use it as a deodourant daily.
STEP 5
Skin Problems- Add a few drops to coconut oil and use it on the problem areas,
Caution
---
Caution 1
Do not apply directly on the skin.
Caution 2
For external use only. Keep away from eyes.
Description
---
Product Weight:
10 ml
Geranium oil is extracted from the stems, leaves and flowers...
You recently viewed
Clear recently viewed