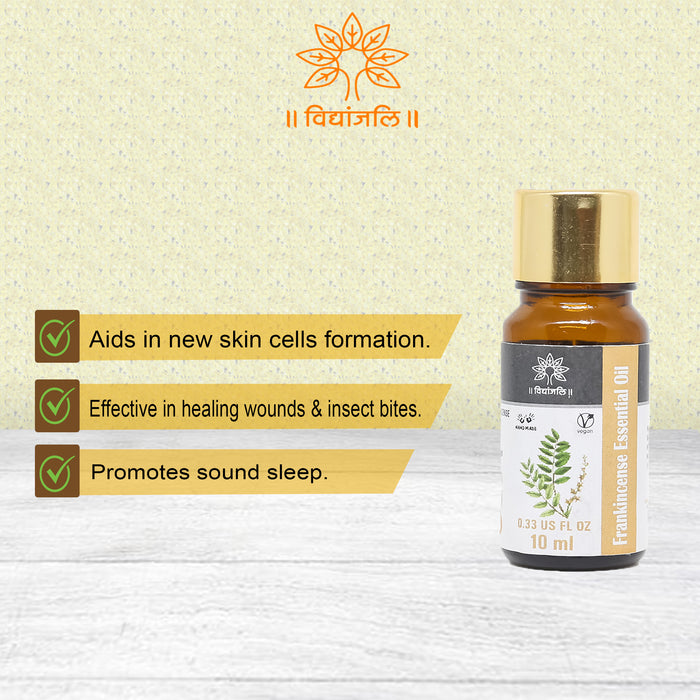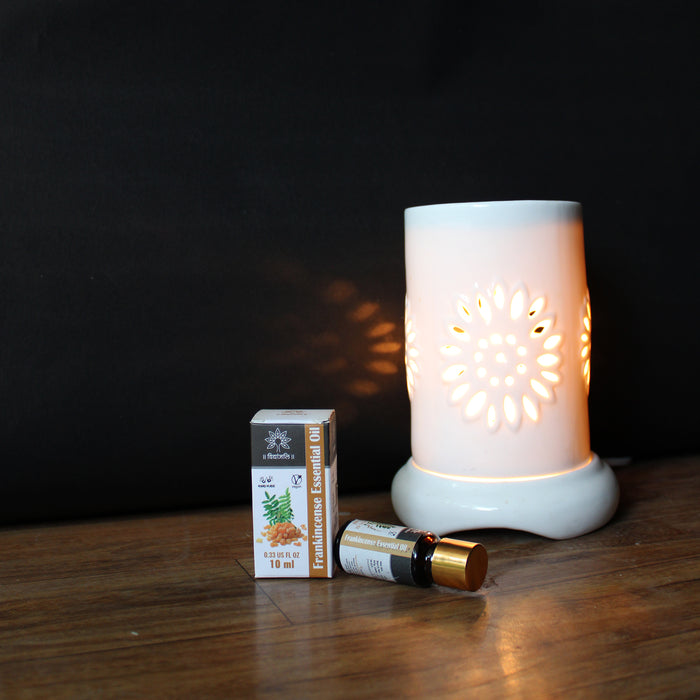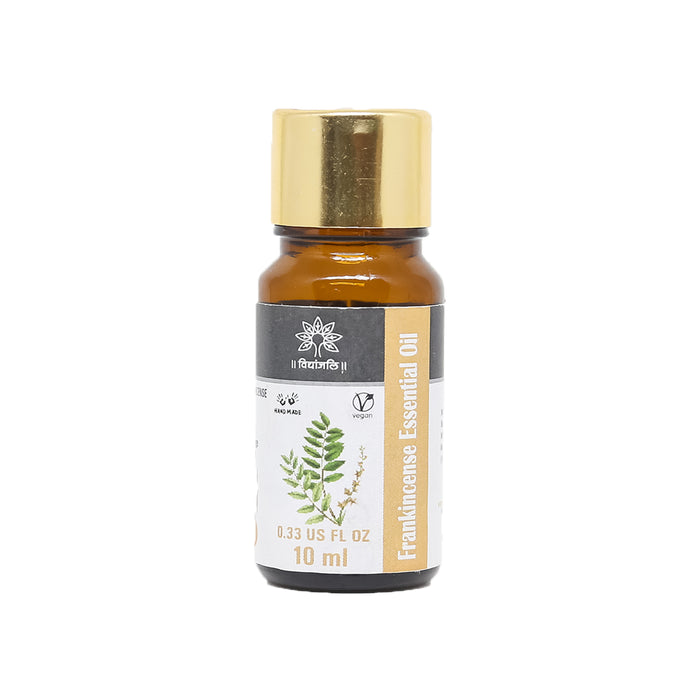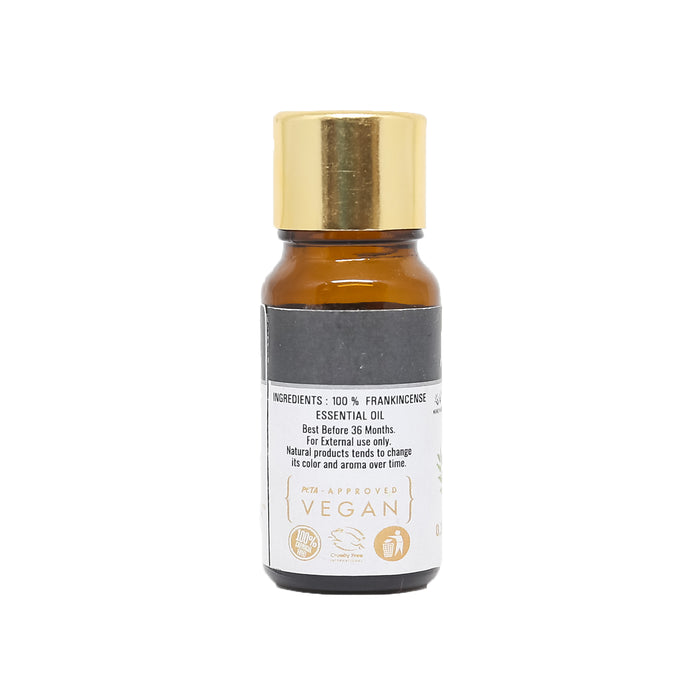 Frankincense Essential Oil - 10ml
Description
---
Product Weight:
10 ml
Frankincense Essential Oil also called as 'King of all Oils' is known for its cytophylactic properties.
- It aids in the formation of new skin cells and is very beneficial to uplift mature, wrinkled and aging skin.
- The oil has antiseptic, anti-inflammatory, antimicrobial, astringent and sedative properties which further helps in relieving muscle and joint pains.
- It is effective in healing wounds, insect bites, scars, blemishes, and acne.
- When added to a diffuser, its aroma relaxes the mind and promotes sound sleep. Frankincense oil is often diffused in shrines for deep meditation.
Key Ingredients
---
100% pure Frankincense Essential Oil obtained by steam distillation method from the hardened gum-like material (resin) of the Boswellia Carteri tree.
Ingredient's Source
---
Frankincense Essential Oil
Frankinsence Oil comes from the resin of Frankinsence plant that is wildly grown in the desert of middle east countries
Best For
---
Normal skin
Combination skin
Sensitive skin
Dry skin
Prakriti
---
Works best for treating Vata and Pitta Dosha. Coconut oil along with a combination of other oils helps to deeply moisturize skin with essential fatty acids. This will also help in keeping skin calm and hydrated all day long. Frankincense Oil will also help in reducing stress, thereby helping you relax to get better and sound sleep.
Chakra
---
Frankincense oil is known as the king oil and is rich with golden prana.

It works on the nervous system, Crown Chakra, and strengthens the Basic Chakra.

It also helps in balancing all the chakras.
Zodiac
---
Virgo:
Virgos are blessed with social behavior that is intelligent, orderly, practical and sociable. Preferring to keep life simple and uncomplicated, Virgos are perfectionists, and can easily be stressed if they're juggling too much at home or at work.

Frankincense oil helps the stressed Virgo soothe their mind while fighting colds. It would benefit the Virgo personality with its ability to clarify thinking and refresh one who is constantly analyzing and introspective. Use it to slow your racing thoughts and calm your pounding heart. Add Frankincense oil to your bath at night or sprinkle a couple of drops in your favorite shampoo.
Libra:
Librans are idealistic peacemakers of the zodiac. They are particularly romantic and compassionate, able to find harmony between work and play, be the diplomat amongst their many friends and always looking for justice and balance in life. They are prone to colds, tummy aches, and minor illnesses.

The balancing oil of Frankincense has adaptogenic properties that when applied topically can control oil production and when inhaled can help regulate hormones. It also helps alleviate anxiety, reduce inflammation and balance the hormones. Libra women experience less fatigue and a general feeling of emotional wellness.

It also acts as another balancing oil for nurturing a sense of self-support and to calm down after partying. It deflects and reduces stress. Rub frankincense into the soles of your feet for an immediate mood boost. Surrender and let Frankincense transport you go into an emotional ' middle ground, ' where Libras feel most comfortable and where time is never of the essence.
Colour Therapy
---
Frankincense oil is known as the king of oils and is rich with golden prana. Orange and Yellow color of oil helps in treating neurological problems like mental tiredness or stress and improves blood circulation in the body.
Benefits
---
- Spiritual Uplifting
- Prevents tooth decay
How To Use
---
STEP 1
It is strongly recommended to dilute it with a carrier oil (any massage oil) before applying on the skin.
STEP 2
For Immune system/ Skin healing/ Aging – Mix 1-2 drops of Frankincense in 5ml of carrier oil and massage heals in your feet and areas wherever required before going to bed at night.
STEP 3
For Stress Release/ Sound sleep- Also, one can rub diluted oil between the palms of the hand and can inhale fragrance to bring a state of calmness in mind and body.
STEP 4
For Spiritual Uplifting- Use few drops mixed with water in a diffuser during meditation or chanting.
STEP 5
For preventing tooth decay- Mix few drops of this oil to your manjan or toothpaste.
STEP 6
For Indigestion/ Chemotherapy relief- Add one to two drops of oil to eight ounces of water and drink it daily.
Caution
---
Caution 1
Do not apply directly on the skin.
Caution 2
For external use only. Keep away from eyes.
Description
---
Product Weight:
10 ml
Frankincense Essential Oil also called as 'King of all Oils'...
You recently viewed
Clear recently viewed