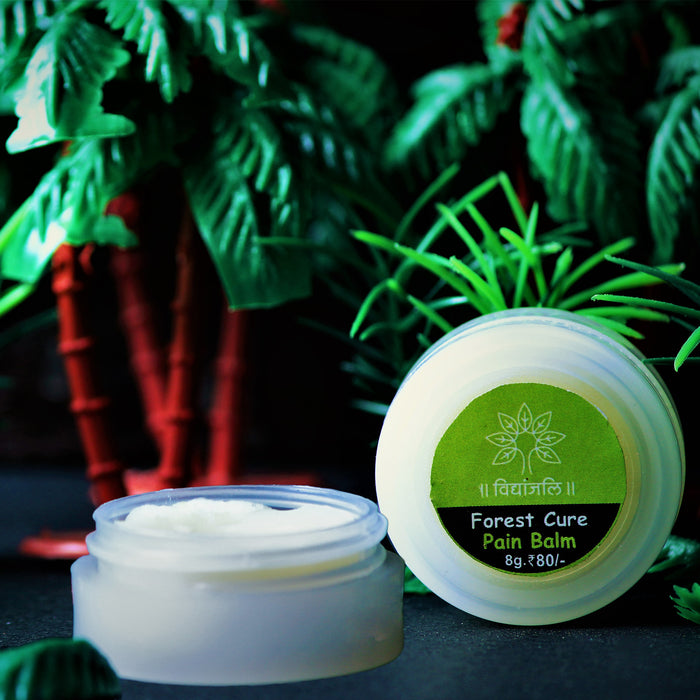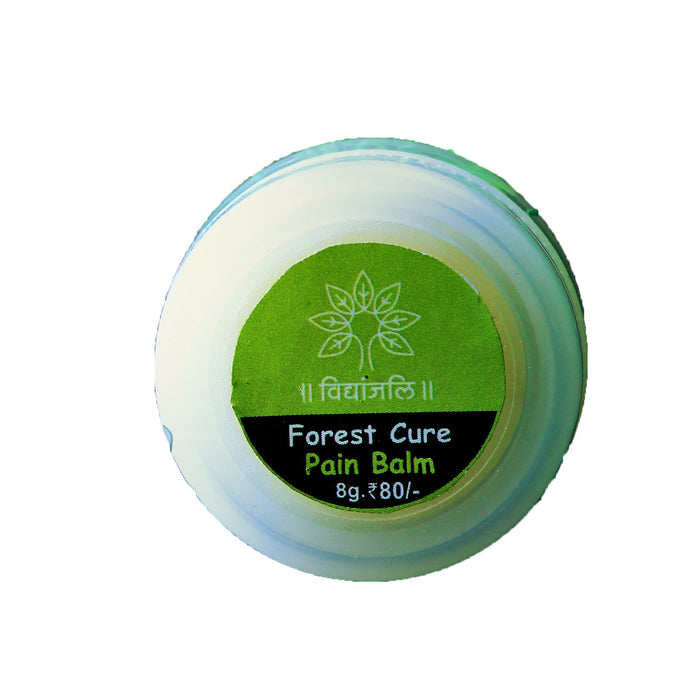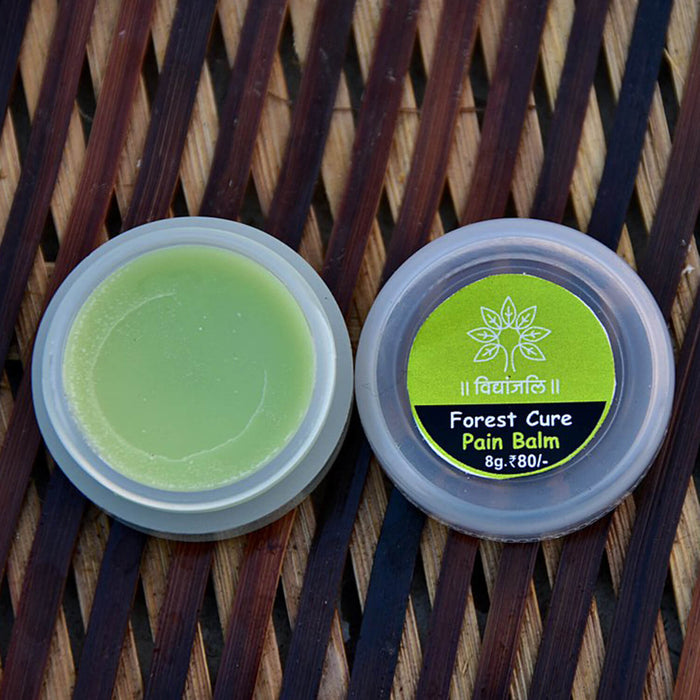 Description
---
Product Weight:
8g
Vidhyanjali Forest Cure Pain Balm contains all kinds of healthy ingredients that help in relieving pain. The essential oils present in this are effective for treating a number of respiratory problems including cold, cough, running nose, sore throat, asthma, nasal congestion, and sinusitis. Eucalyptus oil is antibacterial, antifungal, antimicrobial, antiviral, anti-inflammatory and decongestant in nature. It also has the ability to act like a natural analgesic (pain reducer), antiarthritic, antiseptic and astringent. It also helps in reducing stress, skin issues, blood impurities, and improve blood circulation. Some women suffer from menstrual cramps. Nutmeg oil is very helpful for these women, and it can also reduce the associated symptoms of periods like mood swings, depression. Clove oil has an astounding ORAC value of 290,283 units! This means that per gram cloves contain 30 times more antioxidants than blueberries which have a value of 9,621. In a nutshell, antioxidants are molecules that reverse the damage caused by free radicals, including cell death and cancer. Research has shown that antioxidants slow aging, degeneration and protect the body against bad bacteria and viruses. Inhaling diffused peppermint oil can help to unclog your sinuses and offer relief from a scratchy throat. Peppermint acts as an expectorant, helping to open the airways, clear mucus and reduce congestion, and is one of the best essential oils for colds, the flu, cough, sinusitis, asthma, bronchitis, and other respiratory conditions. Lab studies show that the compounds found in peppermint oil have antimicrobial, antiviral and antioxidant properties, meaning it may also help to fight infections that lead to symptoms involving the respiratory tract. Frankincense oil has strong immunostimulant abilities may include helping to destroy dangerous bacteria and viruses.
Key Ingredients
---
Eucalyptus Essential Oil
Clove Essential Oil
Nutmeg Essential Oil
Peppermint Essential Oil
Frankincense Essential Oil
Thyme Essential Oil
Mustard Oil
Soya Wax
Cocoa Butter
Ingredient's Source
---
Eucalyptus Essential Oil
Hydro Distilled from the Neelgiri Leaves collected from the Wildcrafted Eucalyptus Plant in Udhagamandalam Hills, Tamilnadu
Clove Essential Oil
By cold pressed organically grown clove plants (buds) grown in Karnatka, India
Nutmeg Essential Oil
Wild Crafted from the fruits of cinnamon tree grows near Colombo, Srilanka
Thyme Essential Oil
Hydro Distilled from theThyme seeds in Surat, India
Mustard Oil
Cold Pressed from the organically grown Mustard seeds around Agra, UP, India
Cocoa Butter
Cocoa Oil extracted from Cocoa Beans, South India
Color (FDA Approved, Color Code CI61560, EWG - Safe)
Best For
---
Normal skin
Oily skin
Combination skin
Sensitive skin
Dry skin
Prakriti
---
It works on both Vata and Pitta Dosha.
Chakra
---
It works on the Throat and Ajna Chakra. It has deep cleansing properties hence it works as a purifier for energy channels.
Zodiac
---
Capricorn:
Capricorns are some of the most patient people one will come across. Aside from being patient, they're down to earth and funny. The average Capricorn is a rather optimistic individual who regularly looks on the bright side of situations. Capricorns are also known for having warm and caring personalities. Their personalities are most closely associated with warm scents with a hint of spice.
Virgo:
Virgos are blessed with social behavior that is intelligent, orderly, practical and sociable. Preferring to keep life simple and uncomplicated, Virgos are perfectionists, and can easily be stressed if they're juggling too much at home or at work.

Frankincense oil helps the stressed Virgo soothe their mind while fighting colds. It would benefit the Virgo personality with its ability to clarify thinking and refresh one who is constantly analyzing and introspective. Use it to slow your racing thoughts and calm your pounding heart. Add Frankincense oil to your bath at night or sprinkle a couple of drops in your favorite shampoo.
Aries:
Aries are best known for their independence. Aries is also known for being energetic and always willing to take on new adventures. Because of this energy, they often prefer fresh, natural scents, including slightly fruity scents. Eucalyptus is one of the best essential oils for this sun sign.
Libra:
Librans are idealistic peacemakers of the zodiac. They are particularly romantic and compassionate, able to find harmony between work and play, be the diplomat amongst their many friends and always looking for justice and balance in life. They are prone to colds, tummy aches, and minor illnesses.

The balancing oil of Frankincense has adaptogenic properties that when applied topically can control oil production and when inhaled can help regulate hormones. It also helps alleviate anxiety, reduce inflammation and balance the hormones. Libra women experience less fatigue and a general feeling of emotional wellness.

It also acts as another balancing oil for nurturing a sense of self-support and to calm down after partying. It deflects and reduces stress. Rub frankincense into the soles of your feet for an immediate mood boost. Surrender and let Frankincense transport you into an emotional 'middle ground,' where Libras feel most comfortable and where time is never of the essence.
Colour Therapy
---
Green and Violet color in Forest Cure Balm works wonders for the cleansing of the entire body and helps to stay away from negative thoughts, emotions and energies, removing mental stress and keeps one more active, thereby balancing all the chakras.
Seasonal Concerns
---
Cold, cough, running nose, sore throat, asthma, nasal congestion, and sinusitis can be well handled by Forest Cure Balm. It also has anti-inflammatory properties and reduces stress, skin issues, mood swings, depression.
How To Use
---
STEP 1
For Cough & Cold- Use it in a small quantity and massage it gently on nose, neck, chest & back.
STEP 2
For Headache- Massage a small quantity of this on the forehead.
STEP 3
For Stomachache- Massage a small quantity in and around the navel.
Description
---
Product Weight:
8g
Vidhyanjali Forest Cure Pain Balm contains all kinds of healthy ingredients that help in relieving pain. The...
You recently viewed
Clear recently viewed